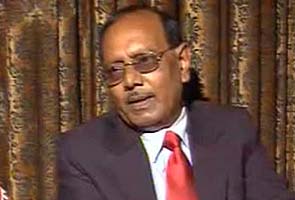 New Delhi:
Former Comptroller and Auditor General (CAG) official RP Singh today claimed he was directed by his superiors - through a "written order" - to sign on the final 2G spectrum audit report that put the presumptive loss from the allocations at Rs 1.76 lakh crore.
Singh, who headed the CAG team that audited the 2G spectrum allocations, said he never put the loss figure of Rs 1.76 lakh crore in his draft report.
"They (senior CAG officials) told me this is the final report and asked me through a written order to sign it. So I followed their instructions and signed," he said. "There was no opportunity to show one's difference of opinion."
"I prepared the report. I gave reasons for removing the (presumptive loss) figures and submitted the report to the higher authorities. But they did not agree with my explanations and incorporated those figures in the final report. What can I do?" he said.
In his draft report, Mr Singh had given a figure of Rs 2,645 crore as loss from the 2G spectrum sale in 2008.
Asked why he decided to come out in the open on the matter now, he said: "The 2G auction has just closed. The price has been found through market discovery and the figure is very less. The CAG report had cited a much higher loss."
The CAG report tabled in Parliament in 2010 had created a political storm. The controversy over spectrum allocation also led to the cancellation to 122 licences by the Supreme Court in February this year.
Mr Singh has claimed that senior BJP leader and Public Accounts Committee (PAC) chairman Murli Manohar Joshi called CAG officials to his house for preparation of the PAC report on the 2G scam that indicted the UPA government.
Mr Joshi denied the charges, but the issue sparked off a war of words between the Congress and the BJP. Congress chief Sonia Gandhi yesterday said Mr Singh's remarks had "exposed" the BJP.