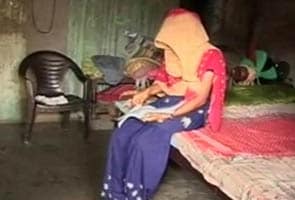 Karnal:
The 17-year-old sits in the courtyard of the small home where she lives with her father and four younger siblings. On a wall nearby, a date is etched. It appeared on the day her mother went missing in 2012; she was found dead in a canal nearby two days later. Doctors confirmed she had been raped before she was killed.
That was the second agonising installment of tragedy for the family. Three weeks earlier, the teen had been abducted while walking to school and raped in a moving car.
Later, the police said the same men who had assaulted her had killed her mother.
A year later, the two men are still being tried in a fast-track court. The decision to fight for justice has pitted them against a hostile neighbourhood. They are Dalits, the men arrested are upper-caste.
"No one speaks to me," she said. "I don't talk to them. Or visit anyone. I just stay at home. What is the point? Nobody talks nicely to me... even my uncles. It would be better to just leave this village."
Demands to drop the case have been unequivocal and steady. "We didn't compromise, that's why everyone is angry with us," says her father who is a daily wager. But he says his capacity to withstand aggression has been brutally sharpened. "We want the culprits to get the life sentence. Only then our struggle will be justified."
For his wife's murder and sexual assault on daughter, he was paid four lakhs as compensation for the government. That money has been spent on lawyers. He says the investigating officer handling the police case is related to one of the suspects, and has deleted crucial information. Visits to the National Commission for Women or the National Human Rights Commission have not resulted in assistance, he alleges.
The survivor, sitting on a cot, just a few feet from where the date of her mother's death has been tattooed onto her home, says she wants to study. "Though I am at home, I can do better than those girls who are attending school. I can still get better marks than my classmates. But I don't have money to buy books."
If you would like to help, cheques or demand drafts can be drawn in the name of "The Hope Trust". The bank details are as below:
Account name: The Hope Trust
Bank Name: Syndicate Bank
Bank Account No: 90492010067832
Branch Address: No 2, Kaushalya Park, Hauz Khas, New Delhi - 110016
Mail cheques or demand drafts can be sent to the following address:
The Hope Trust
207, Okhla Industrial Estate
Phase III, New Delhi - 110020
Phone Number: 011-46176300
e-mail Id: anoop@ndtv.com
Note:
At the back of your cheque, please write "For education of Haryana teenager".
Please also share the details after you have made the donation to anoop@ndtv.com, along with your complete address and PAN Card no, enabling us to send a 80G tax exemption receipt of your donation.
For online transactions, please email anoop@ndtv.com for details.
(
Since The Hope Trust is not registered with FCRA we cannot accept foreign donations. We accept donations from Non-Resident Indians with valid Indian passport, only through any bank account operational in India. Contributions made by a citizen of India living in another country, from his personal savings, through the normal banking channels, is not treated as foreign contribution.
)