Highlights
1.5 lakh homes painted with "I am poor" slogan in Dausa
To ensure only deserving families get cheap food grain: officials
Villagers say they are humiliated, opposition attacks BJP government
Dausa:
Painted in red in big Hindi letters on 1.5 lakh homes in Dausa is the declaration "I am poor", the yellow background facilitating the prominence of the slogan.
The humiliating revelation was painted by zila parishads or district councils in Dausa, which is about 60 km east of the state capital of Jaipur.
The message also states that the inhabitants of the houses receive subsidised food grain that poor families are entitled to, triggering sharp criticism of Chief Minister Vasundhara Raje and her party, the BJP.
"Earlier we were not getting wheat - by writing this on the walls, we have started receiving our rations, but at the same time everyone in the village is making fun of us" said Sitaram, who lives in the Bhankree village in Dausa.
Merely 70 per cent of the families in Dausa are beneficiaries of the welfare scheme. Some district officials claim the markings on walls are meant to stop the siphoning of cheap good grain by middlemen and to prevent richer families for grabbing a share of it. The welfare scheme - the National Food Security Act - was introduced by the previous Congress-led government and entitles the poorest families to 5 kg of highly discounted grain.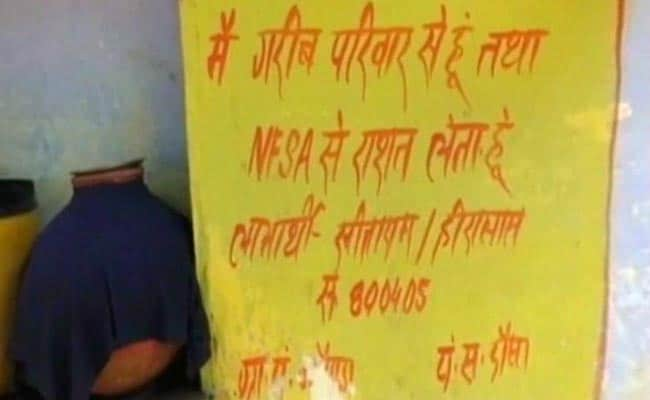 In another village nearby, 65-year-old Soni Devi said, " I get 15 kilos of wheat - that's the reason I let this be written on my house. Now people ask what is this written on your walls, and we feel embarrassed and ashamed. People are making fun of us. I am poor and now I am also a butt of jokes."
"This is wrong, we are enquiring into it," said Rajendra Rathore, the state's Panchayati Raj Minister, to whom zila parsihads are accountable. "Some districts appear to have done this on their own. There is no such order issued by our department. In 2009, the Congress had issued an order where BPL (Below Poverty Line) used to be written outside BPL homes, but to write" I am poor" is wrong and I am looking into it."
"It's a sick joke. If the state government provides them ration under the Food Security Act, it's their legal right, and not a charity from the government," said Manish Tewari of the opposition Congress.