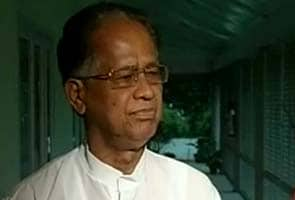 Titabor (Assam):
Rejecting demands to divide Assam, Chief Minister Tarun Gogoi said on Friday that all ethnic groups need to stay united.
"I am not going to divide Assam. We all need to live together. Stop bandh culture and go for work culture," Mr Gogoi exhorted.
"When we are one, others will fear to break us up. We may be Rabhas, Bodos, Karbis, Chutias, Gorkhas (ethnic communities of the state) or minorities. But we all need to live together as Assamese under one umbrella in the state of Assam from Sadiya to Dhubri," he said.
Addressing an awards function in his constituency Titabor, Mr Gogoi stressed that unity and living together is a must for the state.
Without making a direct reference to the recent violence in Assam with different ethnic communities demanding separate states on the lines of Telangana, he pointed out that violence cannot solve problems and only through discussions and talks can things be sorted out.
"From the Assam government side we are holding talks with everybody - ULFA, NDFB, Dima Hasao Daogah and other militant groups. So, even with those who want separate states like Kamtapur, Karbi Anglong, Bodoland, etc, we are doing the same for we need development, unity and peace under one umbrella - Assamese," Mr Gogoi said.
He also said 18 autonomous councils were formed to look after respective community development activities and give more developmental thrust through various schemes. "What we are doing today for development of backward classes in Assam no state in the country can do like us," the Chief Minister said.
To encourage talented and brilliant students under the councils and from other backward areas, Mr Gogoi announced awards of Rs 1 lakh for youth who will get through the IAS exam or get selected in the IITs, Rs 50,000 for Assam Civil Service, MBBS and engineering students.
Stating this was for development and unity under one roof, Mr Gogoi in his third consecutive term as chief minister, informed that since Congress came to power in the state the poor were receiving rice at Re 1, Rs 2 and Rs 3 per kg, while people were benefiting in the field of education, health, agriculture, among others.
During the programme, he distributed cheques of Rs 5,000 to High School Leaving Certificate and Rs 6,000 to Higher Secondary School Leaving Certificate examinations meritorious students getting above 70 per cent marks in Thengal and Non-Thengal areas in five Thengal dominated districts of Dibrugarah, Dhemaji, Lakhimpur, Golaghat and Jorhat.