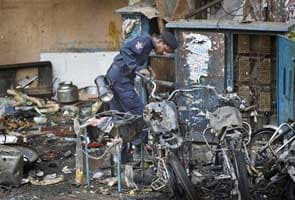 Hyderabad:
The main opposition party today questioned the government over why intelligence alerts of a security threat this week did not prevent last evening's twin blasts in Hyderabad in which 16 people were killed and nearly 120 injured.
"The Home Minister says there was intelligence information that was passed on to states. If there were alerts and the attack was carried out, and innocent people were killed...then there is a massive failure," said Leader of the Opposition Sushma Swaraj, adding that political parties must unite to combat terrorism.
Home Minister Sushil Kumar Shinde who visited Hyderabad this morning will update Parliament this afternoon on the terror strike.
No group has claimed responsibility for the attack so far. Mr Shinde has said that the central government had warned states this week of an unspecified threat earlier in the week. Hyderabad was on a list of cities that had been shortlisted for a possible security threat.
"No intelligence was given that a particular area it will happen. A general alert was given in the past two to three days to the whole country. And that's all," he said.
But as far back as October, the Delhi Police said that it had arrested terrorists from the Indian Mujahideen who had confessed that Dilsukhnagar, the site of yesterday's attacks, had been surveyed for a terror strike last year.
When the alert was sounded three days ago for cities like Bangalore and Hyderabad, security was not increased for Dilsukhnagar despite the information shared by the Delhi Police in a press release several months ago.
In fact, local police officers say they had noticed that a security camera near the site of the blasts had been disabled this week -its wires had been snapped. But no attempt was made to reconnect the camera.