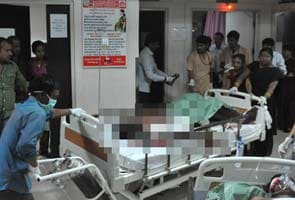 New Delhi:
Home Minister Sushil Kumar Shinde said after the Hyderabad blasts on Thursday evening that the government had some intelligence inputs about a possible terror attack for the last few days, but no specific details.
The Home Minister, who visited the blast site on Friday, said the intelligence had been shared with chief ministers of different states, and added that he could not share any more information.
Sources said the alert sent out was a generic one, with nothing specific to Hyderabad, from the Multi-Agency Centre where various agencies pool intelligence. The probe has been handed over to the National Investigation Agency (NIA).
The Home Minister said the two bombs that ripped through the busy Dilsukhngar in Hyderabad yesterday were planted on bicycles.
Fourteen people have died and nearly 80 are injured. Mr Shinde said it was "possible the death toll could rise."
(Read)
The explosions took place just after 7 pm yesterday and sources in Mr Shinde's ministry said they were a terror strike by "a well-trained" group which timed the explosions to cause the maximum damage.
Delhi, Mumbai and other major cities have been put on high alert. (
Read
)