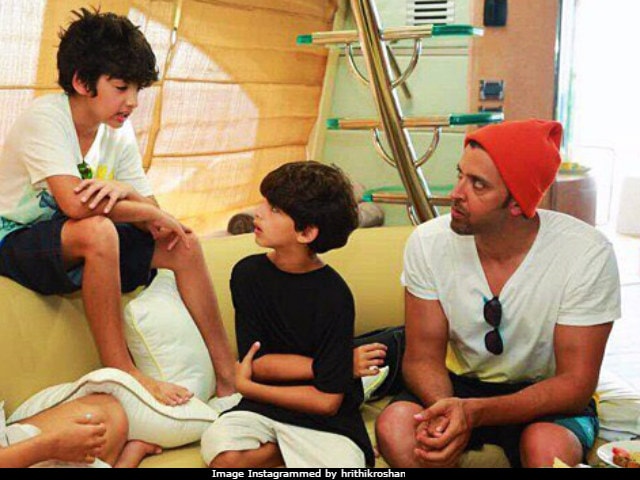 Highlights
Hrithik's posted a pic in which he looks taken aback
'#becarefulwhatyouagreeto' he wrote in the caption
Hrithik appears to have signed up for something he wants to rethink
New Delhi:
Hrithik Roshan loves to hang out with his sons -
Hrehaan, 11, and Hridhaan, 9
. But not all days go as planned for the 43-year-old actor. The Roshan brothers have each other's back and it appears that they are deciding for themselves - Hrithik, is not very happy. The actor recently Instagrammed a photograph of himself along with his sons, in which he looks absolutely taken aback while Hrehaan can be seen conveying something to his younger brother. Hrithik Roshan explains in the caption that he is having second thoughts about something he signed up for with his children. Hrithik posted a slice of conversation as the caption: "....and don't worry dad's totally cool with it. He said so," which is exactly what Hrehaan appears to be telling Hridhaan in the picture. Along came the hashtags '#deerinheadlights' and '#becarefulwhatyouagreeto.'
ROFL
Hrithik Roshan, who keeps his loyal followers updated on social media,
is also very protective about his children
, regulating the amount of media glare they receive. In February, he posted an angry tweet addressing clothing line Tommy Hilfiger, who seemed to post an unapproved advertisement on social media featuring him and his sons.
Dear Tommy.I dont wear u, neither do my kids endorse u.If u hv lost ur spine I hv a great team 2help u find it.Please (hil)figure urself out pic.twitter.com/QMB2h9Gm0y

— Hrithik Roshan (@iHrithik) February 9, 2017
Otherwise, Hrithik mostly has
delightful pictures to post on Instagram
giving us glimpses of his envy inducing vacation itinerary with his sons.
Recently,
the actor is often spotted with ex-wife
, designer Sussanne Khan, sparking speculation about reconciliation. The duo were recently photographed exiting a theatre in Mumbai with their children in tow. Hrithik and Sussanne married in 2004 and were officially divorced in 2014.
Last seen in crime drama
Kaabil
, Hrithik Roshan will also make a comeback as the caped superhero in
Krrish 4
.