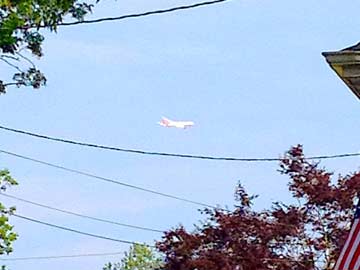 New Delhi:
A Mumbai-bound Air India flight was forced to make an emergency landing at Newark Airport in the US on Sunday seconds after take-off because of an engine fire. The Boeing 777 had 313 passengers on board.
Details of the emergency landing now available with NDTV show that the flight, AI 144, had a close shave. It took off from Newark at 4.24 pm and was just about 100 feet above the ground when the Air Traffic Controller sounded an alert that there were flames coming out of the left hand side engine.
The pilot followed standard operating procedures and reduced thrust to idle on that engine. He also turned back for the emergency landing with the aircraft fully loaded at 350 tonnes.
Shortly before landing, the left hand side engine flamed out, which means that it shut down. This made the plane grossly overweight for a single engine, but it could not dump fuel to reduce weight. Not just because there was not enough time, but also because fuel cannot be dumped if there is an engine fire as the trailing fuel can ignite.
The plane circled over Newark on a single engine and over 100 tonnes overweight, before landing. As it landed, three tyres deflated.
At the airport, the fire department advised the pilot that the plane could not be moved and passengers were removed from the tarmac. There were no injuries reported and the passengers were later flown back to India.
"When I heard it approaching, it sounded like a helicopter. Then when I saw it, I almost had a stroke! It was so low! I told my mom 'I hope' I don't hear a plane crash news in the next 20 minutes," said Sheryle Robert, an eye-witness.
Reacting to the incident, Captain SPS Suri, Director of Operations, Air India, told NDTV that the pilots "performed commendably in an emergency landing on a single engine."
Initially, officials said a bird strike may have caused the fire, but later ruled that out after conducting an investigation, Reuters quoted a spokeswoman for the Port Authority of New York and New Jersey as saying.
She said the airport was operating normally as of Sunday evening.