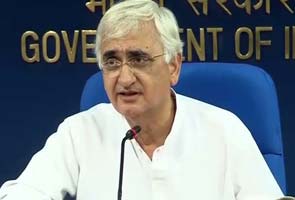 New Delhi:
India on Wednesday expressed hope that rule of law will prevail in Pakistan as well in the 26/11 attack trial like it did in the case of Ajmal Kasab in India.
"Frankly speaking, we have allowed rule of law to prevail (in the case of Ajmal Kasab). Similarly we hope rule of law will be followed in Pakistan. There is not vast difference between the criminal procedures in India and Pakistan," External Affairs Minister Salman Khurshid told reporters in New Delhi.
He was reacting to the hanging of Ajmal Kasab, the lone surviving gunman of the 26/11 attack in Mumbai in 2008, in Yerwada Jail in Pune early on Wednesday morning.
Mr Khurshid said action in Pakistan on 26/11 perpetrators was necessary for the "extremely unpleasant incident" in which there was "tremendous amount of tragic loss of life."
He said India let the rule of the law follow when it came to Kasab and he was even given the opportunity to file a mercy petition before the President.
"This shows we see everyone as equal. Law applies for everyone and it is same for everyone," he said.
The Minister said according to legal requirements, India informed Pakistan Government and Kasab's family about the "inevitable event" of his execution.
"We did send a fax message to the Pakistan Foreign Office. There is no other way of communicating (the event).
Though the message was not accepted we fulfilled our obligations," he said.