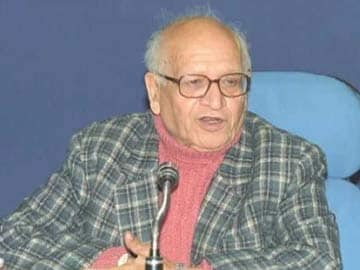 New Delhi:
Prominent Indian historian Bipan Chandra died today in his sleep at the age of 86, family members said.
Mr Chandra was considered to be one of foremost scholars on India independence movement and was an authority on Mahatma Gandhi.
Family sources said he died around 6 AM on Saturday morning at his home in Gurgaon. He had not been keeping well over the last few months. The cremation will take place later in the day in New Delhi.
Mr Chandra, who was a life-long communist, had many of his books prescribed as a standard history text in Indian schools.
The former professor of History, was born in 1928 in the Kangra Valley of Himachal Pradesh. He studied at the Forman Christian College, Lahore and then at Stanford University, United States.
He did his PhD thesis from University of Delhi. Mr Chandra was a member of the University Grants Commission in 1993.