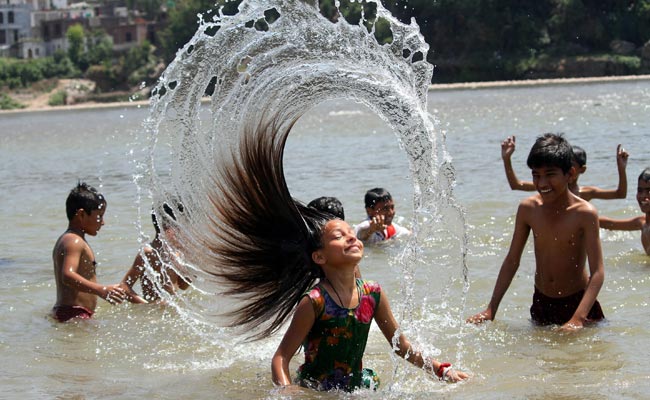 New Delhi:
It's just the third week of April, but temperatures across northern, central and western India have crossed 45 degrees Celsius. The weather department says that most of India is facing a severe heat wave. Though temperatures around 45 degrees is not new, it is unexpected for this time of year - some say a month early. The MeT department, however, said this is temporary and farmers need not worry about a prolonged dry spell. Monsoons are expected to be normal.
Here are the 10 latest updates about the heat wave condition:
The states that are experiencing a heat wave condition are: Punjab, Haryana, Rajasthan, Gujarat, Uttar Pradesh, Bihar, Odisha, Madhya Pradesh, Maharashtra and parts of Telangana. The National Capital territory of Delhi is also seeing above-normal temperatures for this time of year.

To deal with the heat wave, the Uttar Pradesh government has submitted a detailed action plan to the Allahabad High Court for providing relief from the ongoing heat wave in the state. A CD containing slideshows of the action plan was submitted to the court, which is reviewing it before a final plan is drawn.

Delhi is experiencing a heat wave with the mercury soaring to 44 degrees in some parts of the city. The Safdarjung observatory, whose recording is considered the official figure for the city, stood at 42.5 degrees Celsius, five notches above the season's average, making it the hottest day in April since 2010 when the temperature had settled at 43.7 degrees Celsius.

Haryana and Punjab too, remained under the grip of a severe heat wave with some places in both the states, including Chandigarh, Narnaul and Karnal, experiencing the season's hottest day. Narnaul in Haryana registered a maximum temperature of 45.3 degrees Celsius, making it the hottest place in the two states. The maximum temperatures in Ludhiana and Patiala were 43.1 degrees and 43 degrees respectively.

Balangir, in Odisha recorded a temperature of 44.5 degree Celsius, making it the hottest place in the state. The temperature was above 40 degrees in most parts of the state. However, some areas of the coastal belt got some respite because of rain, because of which Bhubaneswar and Cuttack saw pleasant weather. So far, two heat wave-related deaths have so far been reported in the state.

In Rajasthan, Churu - the gateway to the Thar Desert - remained the hottest place in the state with temperatures as high as 46.4 degrees Celsius. Sriganganagar wasn't far behind at 46 degrees Celsius. Other places that experienced severe heat were Bikaner (45.6), Jaisalmer (44.5), Pilani and Barmer (both 43.6), Kota (43.3), Jodhpur (43.2), and Ajmer (42.7).

In Telangana, Chief Minister K Chandrasekhar Rao announced that summer holidays for schools should start from today, five days earlier than planned. The Chief Minister asked the Education Department to ensure that summer holidays are declared for government as well as private schools from today, a statement from his office read. Hyderabad and several other parts of the state are reeling under a heat wave, with the mercury soaring as high as 44.5 degrees.

In Maharashtra, which has been experiencing a heat wave for over a fortnight, Chandrapur in Vidarbha region remained the hottest, with temperatures as high as 46.4 degrees in the last 48 hours. Nagpur too recorded a temperature of 45.5 degree Celsius. VK Rajeev, the Director of India Meteorological Department-Mumbai said, "The heat wave intensity is more in the central parts of the country, with Saurashtra, parts of Madhya Pradesh and Rajasthan heating up severely; This is affecting temperature in Maharashtra as well."

However, easing concerns over farm and economic growth, senior officials of the weather department said the crucial monsoon rains are expected to be average in 2017. "Monsoon rains in 2017 would be 96 per cent of a long-term average," KJ Ramesh, Director General of India Meteorological Department said on Wednesday. The date of the monsoon's onset into Kerala will be announced in late May, he added.

Good monsoon rains are vital for crops and a particularly dry season can reduce farm output, raising food prices which can be crippling for the poor. More than half of India's farms lack irrigation for their crops, meaning they rely almost entirely on the annual rains that fall between June and September. The agricultural sector employs nearly 60 per cent of the population and has been hit by drought and severe heat conditions in recent years.
Post a comment