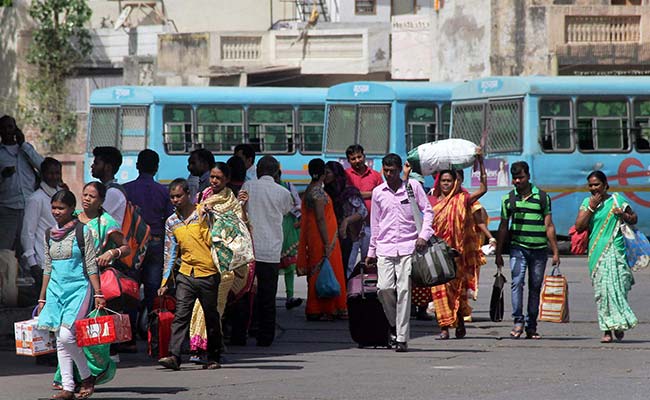 Chandigarh:
The indefinite strike of Haryana Roadways employees entered its third day today with public buses remaining off road causing inconvenience to a large number of people. Cracking the whip, the state government placed 120 staff of Haryana Roadways under suspension for allegedly "instigating other employees and misleading them". "Services of 120 employees of the State Roadways have been placed under suspension as they were instigating other employees and misleading them," Additional Chief Secretary (Transport) S S Dhillon said a press conference here this evening.
Mr Dhillon also sought to allay fears that the government intends to make the roadways a private body, saying Haryana Roadways will continue to have exclusive jurisdiction on all inter-state routes included in Stage Carriage Permit scheme.
All private bus operators are providing service to reduce people's inconvenience. In addition, Punjab, Himachal Pradesh, Delhi, PRTC, PUNBUS authorities have been requested to increase the plying of their buses on main routes in the state, Dhillon said.
Notably, talks between the state roadways employees, who have been protesting over issuance of permits to private operators, and the Haryana government had failed yesterday.
Reacting to the suspension, that included several office bearers of the employees union, Haryana Roadways Employees Union president Sarbat Singh Punia said, "There cannot be any talks with the government like this. They are adding fuel to the fire."
"If the government continues to remain adamant and does not accept our demand, then the strike will continue. Also, government employees of other departments will join us and go on strike," Mr Punia said.
Over 13 lakh passengers travel in the State Roadways buses daily. About 4,200 buses, which include luxury Volvo bus service, have come to a halt in the state due to the strike. In view of the strike, Haryana DGP KP Singh has asked police officials to maintain law and order and ensure that public property is not damaged.
Action will be initiated against anyone found damaging public property. Nobody should be allowed to stop any private bus from operating, the DGP said.
"Additional police personnel have been deputed in sensitive such areas as Jind and Rohtak, and SPs in other districts have been directed to depute home guards, if required," he said.
Mr Dhillon urged the representatives of the Roadways Unions to call off the strike as it was causing inconvenience to daily commuters.
He said the government is working for the welfare of its employees, including the state roadways which requires about 13,500 buses for providing passenger transport services.
The Stage Carriage Permit scheme, which is being opposed by the unions mainly, would help in providing coordinated and efficient road transport services, Mr Dhillon said.
He said 300 buses have already been purchased which are being fabricated in Gurugram and tender for purchase of 300 more buses is in final state. In addition, 300 buses would be added in the roadways fleet in current financial year.
"It is baseless and far from fact to say that government intends to make the roadways a private body. The Stage Carriage Permit scheme is being introduced with the sole objective to provide maximum transport services to the people," Mr Dhillon asserted.
He said there were about 1,300 routes of state roadways, out of which only 273, and that too only short routes, have been allotted to private operators under the scheme.
The remaining routes would be exclusively managed by the Haryana Roadways, including long distance routes and to other states, Mr Dhillon said, adding various demands of the unions have already been fulfilled and doors were still open to hold further discussions.
As many as 869 posts of Helpers have been advertised and requisition of 2,038 drivers and 930 conductors have been sent to the Haryana Staff Selection Commission, he said.
Mr Dhillon said orders have been issued to all private operators to install GPS systems in 853 private buses within 48 hours. After installation of GPS systems, if any permit holder changes his route then his security deposit of Rs one lakh would be forfeited.
Apart from this, the permit holders would have to abide by all the conditions applicable in State Roadways buses like the facility of free or discounted travel, he said.
(Except for the headline, this story has not been edited by NDTV staff and is published from a syndicated feed.)