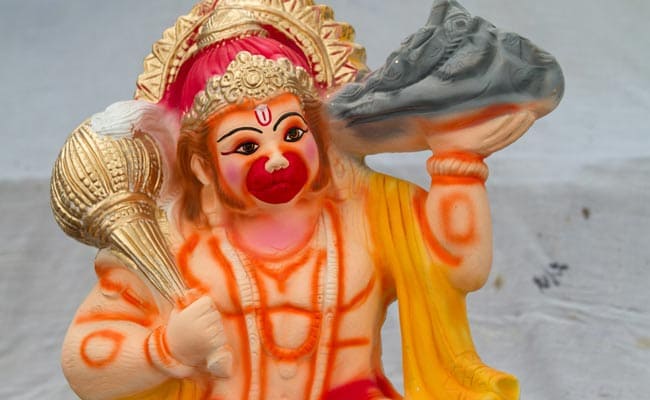 New Delhi:
Hanuman Jayanti is celebrated by devotees of Lord Hanuman across the globe to commemorate the birth of Hanuman, who is also the biggest devotee of Lord Rama. It is also known as Hanumath Jayanti, the day when Vanara God is said to have taken birth. It falls on the 15th day of Shukla Paksha in the month of Chaitra. This year it falls on March 31.
Hanuman, son of wind-god Pawan, is described to have herculean qualities in the scriptures which includes lifting an entire mountain with his one hand. Hanuman also played a crucial role in the battle between Rama and Ravana in the epic of Ramayana. Known for his strong intent, grit and physical energy, Lord Hanuman was also said to have been able to transform into any form.
The appearance of Hanuman dates back to almost 2.59 million years before. Hanuman is a deity who symbolizes courage and compassion.
On Hanuman Jayanti followers and devotees of Lord Hanuman
flock to temples
dedicated to him across the country seeking his protection and blessings. The
devouts
offer special prayers and chant mantras such as
Hanuman Chalisa
and
Sundar Kaand
. Others observe a day long fast to commemorate Hanuman Jayanti. It is said that Lord Hanuman was known to be of the colour of vermillion, which is why he is likened in an orange avatar and offered
boondi, besanor motichoor laddoo
.
It is believed that divine and celestial bodies came down from to the Earth and modified physical forms of creatures that seemed like apes so animals could be used as vehicles for the divine beings.
In the Southern states like Telangana and Andhra Pradesh devotees observe 41 days of Deeksha on Chaitra Purnima that lasts till the Hanuman Jayanthi day. In Tamil Nadu, Hanuman Jayanthi is celebrated on the Margazhi month of Moola nakshathra. Lord Hanuman was born on moola nakshathra in the same month. In Karnataka, the festival is observed on Shukla Paksha Trayodashi during Margashirsha month which is known as Hanuman Vratam.