Gandhinagar:
The Gujarat election is about
rashtravaad
(nationalism) for the BJP, much as the Uttar Pradesh election was, says Chief Minister Vijay Rupani, when asked how big a role caste will play in next month's assembly elections in the state. "People will rise above caste and will vote for nationalism and
vikas
(development)," the Chief Minister said.
Rival Congress has reached out to young leaders like
Hardik Patel
, Jignesh Mevani and Alpesh Thakore in its attempt to draw Patel, Dalit and backward caste (OBC) votes and the ruling BJP is doing its own arithmetic to counter those plans, expected to reflect in its list of candidates, likely to be announced next week.
"For us,
Rashtravaad
is the biggest factor just like it was in Uttar Pradesh...nationalism in any form that is good for the country," Vijay Rupani told NDTV in an exclusive interview just before the BJP's parliamentary party board met to decide on candidates. The BJP, which swept UP, winning more than 300 out of 400 assembly seats hopes to replicate that success in Gujarat, the home state of both Prime Minister Narendra Modi and party chief Amit Shah.
Vijay Rupani and team have been tasked by Amit Shah to win 150 of Gujarat's 182 seats. The chief minister, the Gujarat BJP's backroom boy turned key stakeholder has already had multiple run ins with
Congress vice president Rahul Gandhi
, who has launched an aggressive campaign in the state in an attempt to deprive the BJP of another win. Mr Gandhi has hit out at the BJP over jobs and has declared the "Gujarat model of development" failed, also urging traders to reject the BJP over new national tax GST, which he has labelled the "Gabbar Singh Tax," after the iconic villain from Bollywood film Sholay.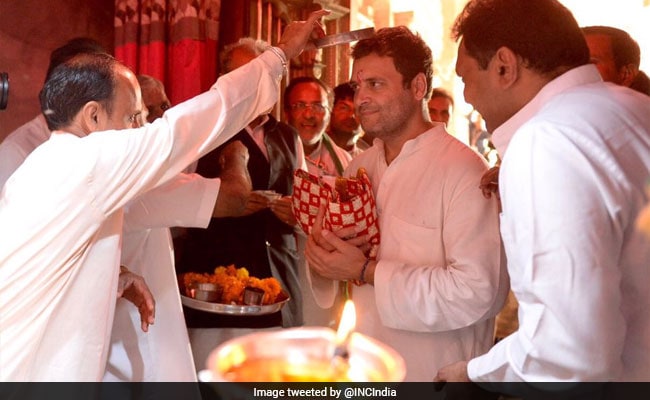 Mr Rupani dismissed reports that Rahul Gandhi has made inroads into Gujarat's big voter base of traders and businessmen with his attack on GST. "People mock him on social media, can't you see," he said, although he admitted that the major changes last week in Goods and Services Tax (GST) rates, with many items being brought down to lower tax brackets, is a major relief. "We thank the central government for listening to the people,' the Chief Minister said.
Rahul Gandhi, he alleged, "talks baseless things," adding that he thus has a new nickname for the Congress leader. "I call him Gappidas," he said.
Vijay Rupani also attacked Mr Gandhi for visiting many temples during his election campaign in Gujarat, being called a "soft Hindutva" line in a state that has picked the BJP for the last 22 years. The BJP has called it an election gimmick, devoid of devotion and with an eye only on Hindu votes.
"I think it is good that Rahul Gandhi is going to many temples. May the Lord bless him with good sense. He went to Akshardham temple after Prime Minister went there. I want to ask him, the Akshardham temple in Delhi, where people from all over the world flock, is just a few kilometres from his home. Why hasn't he ever gone there?" the Gujarat chief minister said.
Rahul Gandhi's "temple politics," he said, wouldn't wash with Gujarat's voters because "if he felt so much, when the Kerala unit of the Congress held a beef festival and slaughtered a calf, why didn't he take action against any of them?"
"Also, he went to JNU when people were shouting anti India slogans. People in Gujarat see all of this.," said the chief minister, who began as an ABVP activist, before a stint as the mayor of the city of Rajkot. he was also a Rajya Sabha lawmaker before contesting a by-election in 2014 to become a legislator, Gujarat BJP president and Chief Minister, all in just two years.
Follow NDTV for latest election news and live coverage of assembly elections 2019 in Maharashtra and Haryana.
Subscribe to our YouTube channel, like us on Facebook or follow us on Twitter and Instagram for latest news and live news updates.