Ahmedabad:
Highlights
Reshma Patel was a close aide of Hardik Patel, she joined BJP last month
The 32-year-old was a life insurance agent at a bank earlier
Buzz that she joined BJP because Rahul Gandhi did not meet her
Reshma Patel, 32, is waiting. Just about a month ago, the Patidar quota agitation leader quit her mentor Hardik Patel's side and joined the BJP. Now, as party bosses led by BJP chief Amit Shah meet in Delhi this week to decide on candidates for next month's Gujarat assembly elections, Reshma hopes her moment is here.
"Hardik Patel's character is now clear to all in Gujarat. He has no right to speak about the dignity of women and is blaming our party just to save his own reputation," said Reshma, who is estranged from her husband, lives away from her twin children and calls herself an "orphan." At her flat in Ahmedabad's Mahadev Nagar, the so- called sex clips of Hardik Patel played on loop on news channels.
Till the middle of October, Reshma was a close aide of Hardik Patel, the 24-year-old face of the Patel or Patidar agitation for reservation in government jobs and colleges. When he was jailed and then exiled to Rajasthan by court, it was Reshma who held his Patidar Anamat Andolan Samiti's agitation together in Gujarat. "I realized that someone needed to keep making our demands. So I sat on a hunger strike and even when I was arrested, I refused to eat," she said.
Her one-month stint at the Sabarmati jail placed her in the headlines as a young, articulate woman leading the agitation from the front. But, she alleges, it also fostered resentment in Hardik Patel and led to their eventual split.
Hardik Patel would always ask why I needed to put out my own statements on social media, why was I speaking so much," said Reshma, who was a life insurance agent at a bank before she joined the Patel protests.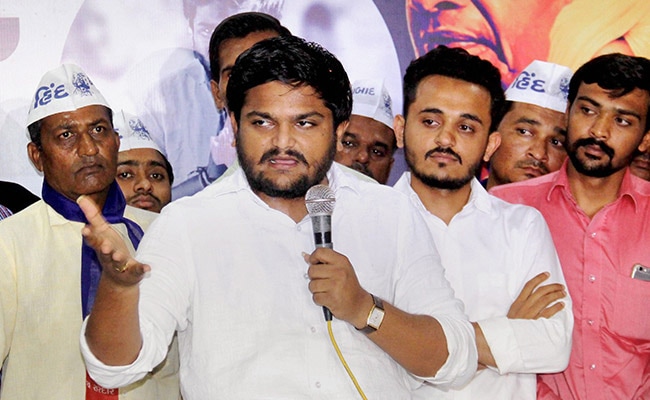 Reshma suggested a read-up on the internet for details of the drama in her life as she made her way from her home town Junagarh in west Gujarat to state capital Gandhinagar. "You can read it on Wikipedia, its all true. My father is in jail for murdering my mother in 2006, so since the age of 22, I have no parents."
Reshma Patel lives in the Ahmedabad flat with a woman from the Patel agitation who she calls her sister, and the woman's son. They are now her family, Reshma said. Her eight year old twins, a boy and a girl, live with her husband in Vadodara. "I know I cannot take care of them right now so it is okay that they live with their father. When I can then, I will get them back."
In their quest for the support of the powerful Patels, both the Congress and the BJP had reached out to the activist, and there is buzz that Reshma Patel joined the BJP because Congress vice president Rahul Gandhi did not meet her. "I sent him a letter asking what his plans were about reservation. But he didn't reply," she confirmed.
Get Breaking news, live coverage, and Latest News from India and around the world on NDTV.com. Catch all the Live TV action on NDTV 24x7 and NDTV India. Like us on Facebook or follow us on Twitter and Instagram for latest news and live news updates.