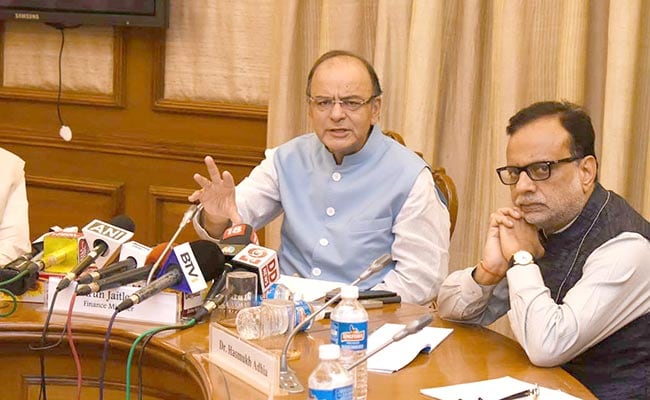 Highlights
Arun Jaitley aims at rolling out the GST from April 1, 2017
Members didn't agree on minutes of the meeting and it wasn't adopted
Council's decisions are pivotal to the implementation of GST
New Delhi:
Mega reform Goods and Services Tax, on a smooth run since it was unanimously approved by the Parliament last month, hit a road bump today at the second meeting of the GST council. Members did not agree on the minutes of the meeting and it was not adopted.
The GST council is chaired by Union Finance Minister Arun Jaitley and has as members finance ministers from states as well as some other union ministers. At today's meeting, the states and the Centre disagreed mainly on the key issue of sharing revenue from service tax collected from small traders whose revenue is less than Rs 1.5 crore.
States want a gradual handover of the process from the Centre while they build up administrative ability, but want to ensure they get their share of the revenue that the Centre will collect till then. The Central government gave up administrative control over the small traders as one of its concession to get states and the parties that rule them to support GST, a unified tax that replaces a raft of indirect taxes across the country.
The states were upset today at what they called the Centre's bias in minuting the meeting, alleging that it did reflect what had happened.
At today's meeting, Arun Jaitley said, "the GST council approved five sets of draft rules on registration, payment, refund, returns and invoices." This paves the way for the network to start its work and for companies and other businesses to start their framework to make monthly payments for GST
Mr Jaitley aims at rolling out GST from April 1, 2017, and the government has so far said it is on course to meet that ambitious deadline.
The GST council's decisions are pivotal to the implementation of India's biggest ever tax reform. Among other things it will recommend the rate of GST, the main outstanding issue that political parties have failed to agree on even as they united to pass a constitutional amendment in the Parliament to give effect to the single tax. This meeting to decide the rates and slabs is slated to start from October 18.
To meet its April deadline, the government will need to take the council's recommendations to the Parliament in the winter session that begins at the end of November.