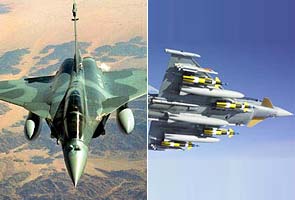 New Delhi:
The Defence Ministry has shortlisted Eurofighter Typhoon and Dassault Rafale from among six competitors participating in the $10.5-billion tender to provide the Indian Air Force with Medium Multi-role Combat Aircraft (MMRCA), say sources.
The Dassault and the Eurofighter, according to sources, are the only participants asked to extend the validity of their commercial bids and have been called to the Defence Ministry on Thursday, the sources add.
Sources also say that the other competitors - Boeing F/A-18, Lockheed-Martin's F-16, UAC's MiG-35 and Saab's Gripen - haven't received a message or a letter.
The MMRCA deal is meant to provide the Indian Air Force with approximately 126 new state-of-the-art fighter aircraft.