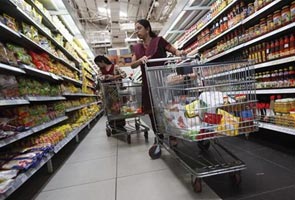 New Delhi:
The government has cleared 51% Foreign Direct Investment or FDI for multi-brand retail, a major reform aimed at jumpstarting a lethargic economy and combating the image of an administration riddled with policy paralysis.
(Read: New, bold reforms announced by government)
The move will allow global firms such as Wal-Mart Stores to set up shop with a local partner and sell directly to consumers for the first time, though individual states have the right to reject the reform. The proposal had been cleared by the cabinet in November last year but was suspended because of adamant opposition by key ally Mamata Banerjee, the chief minister of West Bengal. Her party warned today that it will take "a major decision on support" if the Congress does not withdraw both the FDI reforms cleared today and the decision yesterday to increase the prices of diesel by Rs 5 and to cap the number of subsidised LPG cylinders available for each household. "We cannot support price hike of diesel and reduction in subsidized LPG cylinders. Today, a decision has been taken allowing FDI in retail sector. It is a big jolt," Ms Banerjee said on her Facebook page, adding that she was prepared to take "hard steps" if the new policies are not reversed.
(Read: Mamata Banerjee sets 72-hour deadline to withdraw FDI, diesel hike)
The government appeared to have taken the risks into account. "We respect her decision...it is her prerogative to implement or not implement...equally it is the prerogative of other states to have it," said Commerce Minister Anand Sharma. The BJP and Left both described the multi-brand retail policy as a betrayal of the people, arguing that it will put thousands of small shop-owners and farmers out of business.
The slew of reforms cleared by Dr Manmohan Singh today, the boldest in his current term, include permitting
foreign airlines to buy upto 49% in an India carrier
and
selling off stake in major state-run firms
, which will not be revoked, said sources. The government has also rejected demands from other political parties to revoke a hike in heavily subsidised fuel prices announced yesterday.
India's inability in the past months to push through major reforms and ease its subsidy burden as growth slowed sharply has put it in danger of becoming the first of the big "BRIC" emerging economies to see its credit rating downgraded to junk.
Foreign investors, experts, and industry have been stressing that the Prime Minister has a narrow political window to push reforms key to reviving India's flagging growth. The general elections are two years away, and international media in recent months has been critical of Dr Manmohan Singh, labelling him an "under-achiever" reluctant to take politically-tough but economically-critical decisions.
The government has been trying for months to build consensus around reforms in retail. Those plans appeared to come undone in June when Mulayam Singh Yadav, the head of the Samajwadi Party, wrote to the Prime Minister urging him not to proceed with reforming the retail sector because it would result in job losses.