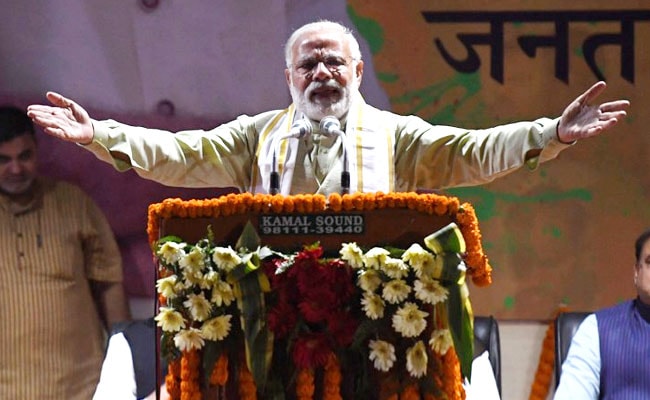 Highlights
Government to begin celebrations of third-year anniversary on May 26
MODI Fests to be held in state capitals, Chief Ministers to lead them
MPs and ministers tasked with spreading awareness of key points
New Delhi:
Celebrations to mark the government's third anniversary will derive much substance from the personal brand of Prime Minister Narendra Modi and will last 20 days. PM Modi will personally lead five programs, the first of which will be held in Guwahati in Assam.
To capitalise on the moment, the PM will write a letter addressed to the everyman. 2 crore copies are being printed and they will be dispatched starting May 20 to ensure they are delivered by the 26th -the recipients are beneficiaries of various welfare schemes.
It's not entirely the written word in its purest form that will spread the message. 10 crores text messages will be sent to people across the country.
900 venues around the country have been selected for functions; each will be assigned to ministers and MPs.
The high point of the celebrations will be a series of festivals titled MODI Fests (Making of Developing India Festivals), which allow the BJP to push the Prime Minister's name while also acronym-ing, a favourite tactic of the party. BJP Chief Ministers and their deputies will participate in MODI Fests in the capital of their states. The festivals will be organised by state governments; apart from presentations highlighting key government policies and accomplishments, caps and leaflets about large welfare schemes will be shared.
For its second anniversary last year, the government, having lost crucial elections in Delhi and Bihar, was a little subdued. This year, the outsize win in Uttar Pradesh and the popular support for demonetization has led to a considerable scaling up of messaging.
Over the last year, the BJP has rigorously employed the tag line "
Mera Desh Badal Raha Hai
" (my country is changing). Sources say a new slogan may take front seat - "
Desh Badal Raha Hai, Bharat Ubar Raha Hai
" (the country is changing, India is progressing) but the PM has yet to assent to the catch phrase of the campaign. In speeches to mark recent landmark occasions, the PM has stressed "A New India".
Senior union ministers will address press conferences and interact with group of media in Delhi on the 27th and 28th. And central ministers, 74 in all, will be dispatched to the 900 centres identified as venues. They will interact with groups of farmers, women, youth, Dalits and Backward Caste, and labourers. Ministers will also visits IITs, prestigious colleges and important academic institutions to create links with students.
Ministers have to also spend a day in newly electrified villages and have lunch or breakfast at the house of a family that has benefited from the scheme for rural electrification.
And just to remind voters how much things have changed, the publicity material will include a booklet titled "Now & Then" / "Ab aur Tab", comparing the first three years of PM Modi's government to 10 of the Congress-led UPA.
For more stories on three years of the Modi government,
click here
.