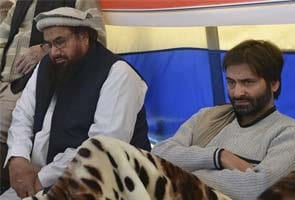 Islamabad:
The Indian government is under pressure to act against Kashmiri separatist Yasin Malik who appeared in public over the weekend with Hafiz Saeed, the mastermind of the 26/11 attacks in Mumbai in which 166 people were killed.
"When an Indian meets a terrorist, we condemn this," said Preneet Kaur, the Junior Minister for External Affairs. The opposition BJP wants Mr Malik's passport to be cancelled. "Why did the government allow him to go there? This is a monumental mistake by the Home Minister and we will raise this," said the BJP's Prakash Javadekar.
Leaders from the ruling Congress have also joined the chorus seeking actions against Mr Malik. "Yasin Malik knows that Saeed is the convict in the Mumbai blast case. He should have objected the moment he came on stage. The government should do something," Congress leader Digvijaya Singh has said.
Mr Malik, the chairman of the Jammu Kashmir Liberation Front (JKLF), was in Islamabad over the weekend on a hunger strike to protest against India's hanging of Afzal Guru, a Kashmiri who was found guilty of aiding a deadly attack on Parliament in 2001.
Mr Malik said that Saeed joined him on stage for about 10 minutes, and did not make anti-India comments at the hunger strike. "I have met Saeed in the past as well ...and had told him (then) that the peace process should be given a chance...nobody raised a voice then," Mr Malik told NDTV.
Saeed, the founder of terror group Lashkar-e-Taiba (LeT), moves freely around Pakistan despite a 10-million dollar bounty announced by the United States.
(Read: Pakistani militant strikes a less militant tone)
This is the first time that a Hurriyat leader has been seen publicly with Saeed.