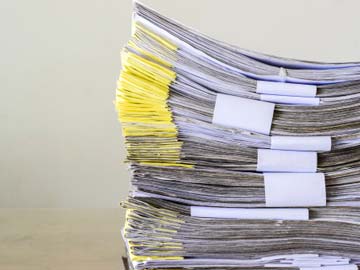 New Delhi:
As part of the green initiative and to cut down on cost, the Finance Ministry has asked government departments to curb use of paper and promote electronic communication.
Issuing a set of instructions to check "injudicious" use of paper, the Ministry has directed that all the policy instructions, guidelines and orders should be uploaded on the official websites of the respective departments.
"Number of hard copies of such communications may be limited to the required minimum," it said in a communique to all secretaries and financial advisors in government departments.
Pointing out that government is one of the major consumers of paper, the Finance Ministry said: "injudicious use of paper not only leads to infructuous expenditure, but also impacts the environment as trees are major source of paper pulp production".
In order to economise use of paper, it said that notes should be typed in single space and on both sides of the paper.
"Office copies should not be typed again where the draft itself is legible and does not contain many corrections," the Expenditure Department of Finance Ministry said.
It also asked the Ministries to shorten and simplify the forms, proformas and returns in the light of the instructions issued by Cabinet Secretariat.
"Manual submissions of forms, returns, etc, wherever stipulated, either under statutory obligations or otherwise should be discouraged. Switching over to e-forms, online submission of forms/returns may be encouraged," it said.
The Ministry further said these instructions with regard to judicious use of paper should be followed by all autonomous or statutory bodies which obtain funds from the government.