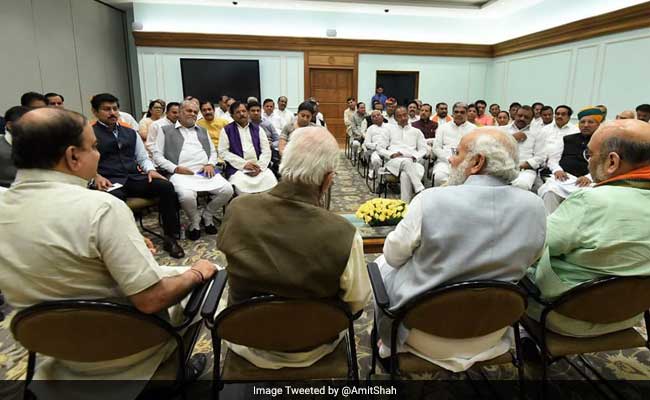 New Delhi:
If on Thursday Prime Minister Narendra Modi told BJP MPs from Uttar Pradesh to not sit back after the state win, his message to MPs from Gujarat on Friday: get cracking. The BJP has been in power in Gujarat for the last 19 years and is keen to retain its bastion.
In a clear signal that the BJP's top duo - PM Modi and party president Amit Shah - are now turning their attention to states which are heading towards polls, Gujarat MPs along with their counterparts from Goa, Daman and Diu were today issued orders to start creating a better connect with voters.
Over typical Gujarati fare for breakfast, PM Modi asked MPs to upgrade their effort to build bridges between public and government schemes. With Gujarat polling in November this year, PM Modi has asked MPs to pick five constituencies each to canvass votes.
Come April 14, MPs have been asked to celebrate Dr BR Ambedkar's birth anniversary and then leave for villages. "Each MP has been asked to spend 72 hours or three days in villages at the gram panchayat level. The MPs have to assess impact of schemes and find what people need," said a senior lawmaker. On the April 6 - the MPs have been asked to celebrate BJP's foundation day among voters.
Among prominent attendees to the meeting were PM Modi's one-time mentor and Gandhinagar MP LK Advani, textile minister Smriti Irani and nearly 45 other Gujarat MPs. According to sources, PM Modi asked MPs to submit two most significant achievements by them in their constituencies. "PM said that the most shining examples will put together in the form of a booklet," the lawmaker said.
Emphasising the need to spend more time in the constituencies, PM asked lawmakers to popularise the Mudra Yojana - a collateral-free loan scheme for those who want to start an enterprise. "PM asked us to help the needy to secure loans under Mudra by taking people personally to the banks," said a MP.
This is a strategic nudge by the Prime Minister as over the last few decades, people in Gujarat have shown a great affinity towards starting businesses and for startups loans are perceptibly the biggest hurdle.
The BJP, which currently has 123 seats, has announced
"Mission 150"
- winning at least 150 of the state's 182 assembly constituencies.
Seemingly to keeping the state's large trading community engaged with the BJP despite the alleged impact of notes ban, the Prime Minister has asked MPs encourage digital platforms for doing transactions and also connect with social media to reach out to the people.
The Patel agitation which has dogged the BJP government for some time was at the back of the mind of the party when during the meeting Amit Shah informed the MPs about the centre's decision to set up a National Commission for Socially and Educationally Backward Classes (NCSEBC), a constitutional body for welfare and addressing the grievances of backward classes.
Terming it a landmark decision, Mr Shah said this commission will lead to substantial improvement in lives of people from backward classes.