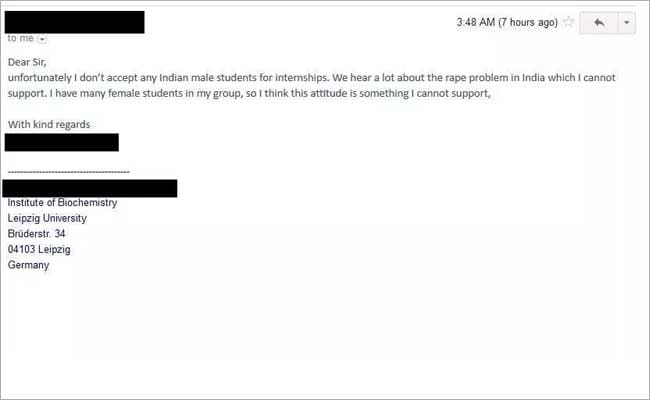 New Delhi:
A German professor has apologised after a series of emails widely circulated online revealed that she had denied an Indian student an internship spot giving the "rape problem in India" as a reason.

An email thread reproduced on Quora showed that Annette Beck Sickinger of Leipzig University denied the student an internship at the Institute of Biochemistry.

The email said: "Unfortunately, I don't accept any Indian male students for internships. We hear a lot about the rape problem in India which I cannot support. I have many female students in my group, so I think this is something I cannot support."

The student protested that it is "generalisation," to which the professor responded: "I fully agree that this is a generalisation and may not apply to individuals. However, it is also unbelievable that the Indian society is not able to solve this problem for many years now."

Amid a wave of anger, the German Ambassador to India, Michael Steiner, objected strongly to the exchange, after which the professor apologised.

"I made a mistake. I never had the intention of discriminating against Indian society. I have nothing at all against students from India - quite to the contrary. If I hurt anybody's feelings, I duly and heartily apologize and feel sorry for any misunderstandings," Professor Sickinger said in a statement uploaded on the German embassy website.


The German envoy tweeted out his
letter
to the professor.
"It has been brought to my attention that you denied an internship to a male Indian student, giving 'the rape problem in India' as a reason. Let me make it clear at the outset that I strongly object to this," Ambassador Steiner said.
My answer to an unfair judgement: http://t.co/jUs7otE135pic.twitter.com/4Ns2hB5p8U

Michael Steiner (@Amb_MSteiner) March 9, 2015
He called the "oversimplifying and discriminating generalisation" as an offense to millions of law-abiding, tolerant, open-minded and hard-working Indians.
The incident comes in the middle of a debate over a government order to ban the broadcast of a documentary on the 2012 gang-rape of a young student in Delhi.