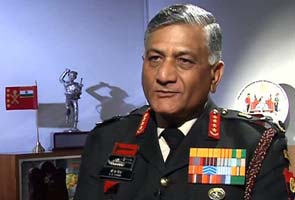 New Delhi:
With only four days remaining before the Supreme Court takes up the Army Chief age row case, the Army's adjutant is yet to reconcile its records reportedly as directed by the defence ministry to show General VK Singh's date of birth as 'May 10, 1950'.
This has led some to questions whether the Adjutant General is dragging its feet on the issue. Many have pointed out a clear conflict of interest since the two crucial Army wings involved in the age row, the Adjutant General and military secretary branches, function directly under the Army chief.
General Singh, the first serving military chief to petition the Supreme Court, wants May 10, 1951 to be recognised as his date of birth to restore his "personal integrity and honour". If the Supreme Court rules in his favour and the year of birth is settled at 1951, the Army chief will serve till March 2013, instead of retiring on May 31 this year which the government wants, changing the entire line of succession in the Army.
But the ministry of defence's latest directive on January 23 to the Adjutant General and military secretary branches as well as the Comptroller General of Defence Accounts has reiterated that General Singh's "officially recognised" date of birth will "continue to remain" as 'May 10, 1950' and all records should be reconciled to that effect.