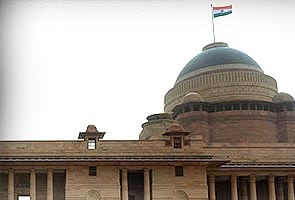 New Delhi:
Now you can book visits to Rashtrapati Bhavan at a click of the mouse button, with Secretary to the President Omita Paul on Friday launching an online system to facilitate free tours to the heritage building.
"Beginning January 1, 2013 Rashtrapati Bhavan will also be opened for public viewing on Sundays and for increased hours.
The days Rashtrapati Bhavan would be open for visitors are Friday, Saturday and Sunday from 0900 hrs to 1600 hrs without any lunch break," President's Press Secretary Venu Rajamony said in a statement.
The existing procedure of writing to the Deputy Military Secretary would also remain in place for people not having internet access or email facility.
People can use the link given on the Rashtrapati Bhavan website 'www.presidentofindia.nic.in' to book in advance their tours to the 340-room building which was completed in 1929.
The Rashtrapati Bhavan has developed two routes for people who wish to visit the vast mansion spread over two lakh square feet.
The first route will cover Forecourt, Reception, Lutyen's Gallery, Marble Hall, Kitchen Museum, Children's Gallery, Gift Museum, Durbar Hall, Library, Long Drawing Room, North Drawing Room, Ashoka Hall, Loggia and Banquet Hall. Brief details of each of these places are on the Rashtrapati Bhavan website.
"The second will include all the above places and Mughal Gardens. Guides will be provided. Entry is free," Rajamony said.
Visit can be booked upto 30 days in advance. The facility provides time-slot options starting from 0900 hrs to 1600 hrs.
In each time slot, 50 visitors will be allowed but in case of school children visits or group visits, this restriction will not apply.
After on-line booking, confirmation will be sent by email within two working days. The booking status can be checked on-line using the Registration Number and Date of Birth.
"Online booking system will cut down on use of paper communication and is environment-friendly. It will make management of visitors more efficient and provide visitors with a wide option of time-slots," he said.