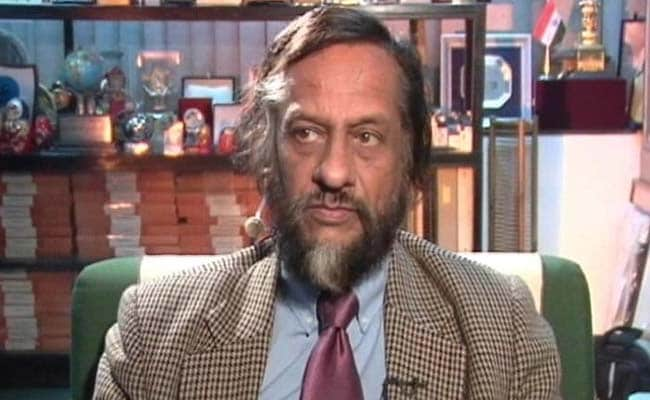 New Delhi:
Former TERI director RK Pachauri was questioned for the second time by Delhi Police in connection with the alleged sexual harassment case lodged against him by a woman research analyst.

The 74-year-old was questioned at his posh Golf Link residence on Friday afternoon. The police, however, could question him only for a brief period as Dr Pachauri complained of ill health.
"He was not feeling well. He also claimed that somebody in the close family had passed away and he was not in the right frame of mind to face the questioning. We will further question him in the next couple of days whenever he is comfortable," said a senior police official.

A police team of three officials had questioned Dr Pachauri on Wednesday as well at his residence for around three hours.

Cops carried a questionnaire consisting of nearly 50 questions covering different aspects of the charges levelled against him by the researcher.

"He was asked specific questions about his claims that his various social media accounts were hacked by someone to send objectionable messages to the victim," a source had said while declining to elaborate on Dr Pachauri's responses to the questions.

Investigators had already sent Pachauri's mobile and laptop, submitted to police by him, for forensic analysis as he claimed that he was a victim of hacking and his computer resources were misused and he had filed a police complaint in this regard as well.

On May 21, a local court had declined to allow Dr Pachauri to enter his office while noting the slow progress in the probe against him and asked police to complete it by July 17.


The court had noted that investigation in the case was progressing at a "snail's pace" as during the arguments, the Investigating Officer (IO) had conceded that from March 21, no probe had been done.
The court had also said that the IO may conclude the probe by the next date of hearing and examine material witnesses of the prosecution.
Dr Pachauri was granted anticipatory bail on March 21 by the court which had rejected the request of police for his custody in the molestation case.
The court had granted him anticipatory bail by imposing several conditions on him including that he will join the probe as and when called, he will not enter TERI office premises and not intimidate or threaten the complainant and the witnesses of the case.
On February 13, an FIR was registered against Dr Pachauri on charges of sexual harassment under sections 354, 354(a), 354(d) (molestation) and 506 (criminal intimidation) of the IPC at Lodhi Colony Police Station after the woman had submitted a 33-page complaint in this regard to the police.