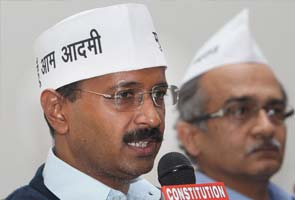 New Delhi:
India's leading anti-corruption crusader on Saturday stole the campaign slogan used by the ruling Congress party as the name for his new political movement as he readied to do electoral battle.
Arvind Kejriwal, a diminutive and bespectacled former government tax official, announced his group would be called the "Aam Admi Party" which means the "Common Man's Party".
"Aam admi" is the catchphrase long used by the Congress party, which has dominated India for most of its post-independence history, to connect with the hundreds of millions of poor that it views as its biggest constituency.
Kejriwal, whose string of corruption accusations against the graft-tainted Congress government and some of India's most powerful people have unsettled the elite, said "common men, women and children" were forming the party.
"They are not politicians. They are fed up of politicians. They are the people who are fed up of corruption," he told a televised news conference.
"This is why the common man has decided to challenge them. Now the common man will sit in parliament," he said, declaring his party will contest the next general election due in early 2014.
"This party will change the way politics and political parties function," he said.
Kejriwal, whose hero is Indian independence icon Mahatma Gandhi, first came to prominence last year, serving as the chief lieutenant to veteran anti-corruption campaigner Anna Hazare during the latter's 12-day hunger strike.
The protest against graft galvanised huge support among India's middle class dismayed by the nation's deep-rooted corruption. But while Hazare has since backed away from the headlines, his protege has carried on the fight.
Kejriwal has won national attention with his almost weekly salvos against high-profile targets, ignoring critics who have have accused him of acting irresponsibly with his "name and shame" tactics.
He has accused Salman Khurshid, India's foreign minister and Congress party member, of siphoning off funds from a family-run non-profit help group - charges he has strongly denied.
Nitin Gadkari, president of the main opposition Bhartiya Janata Party, is facing an inquiry over claims about his business financing.
Kejriwal has also taken on Robert Vadra, son-in-law of Congress party chief Sonia Gandhi - seen as India's most powerful politician - accusing him of unfairly benefiting from property deals.
Information Minister Manish Tewari dismissed Kejriwal's appropriation of Congress's favourite phrase.
"'Aam admi' has been synonymous with the Congress party since 1885. Nobody can hijack the intrinsic relation between Congress and the 'aam admi'," he told reporters.
Kejriwal said the formal launch of his party will be on Monday, November 26 - to coincide with the day India's constitution was adopted in 1949.
Analysts say while public disquiet about corruption is high, Kejriwal's party will face tough competition in the political arena with scores of parties contesting elections in India, the world's largest democracy.