Patna:
Highlights
Sons' brides should not frequent malls: Rabri Devi
Her two sons are ministers in Bihar government
Working women or housewives ok, says Lalu Yadav on Twitter
Rabri Devi was a Twitter trend today after she said she is looking for wives for her two sons who are ministers in Bihar. Mall-going women are out the running, she said. Curious since the
sons in question own a two-acre plot of land on the outskirts of Patna that was being developed as Bihar's largest mall
till the centre last month stopped construction because of reported violations of environmental laws. The project has also attracted scrutiny with the opposition BJP alleging illicit transactions to benefit the Yadav family.
As her husband, Lalu Yadav, turned 70 yesterday, Rabri Devi told reporters that the couple wants daughters-in-law who "will respect them, abstain from trips to the mall, and run the house smoothly."
Lalu today tried to quell the controversy over her regressive remarks by tweeting a wish list including strong-willed, caring, loving - working is optional.
"
Sanskari bahu
doesn't mean veiled, home bound, dependent lady. It means strong willed, loving, caring lady, whthr working women or housewife (sic), " he wrote on Twitter.
Lalu's older son, Tej Pratap, who is a cabinet minister and 29 years old, has talked often about his commitment to religious rituals, which controversially included been photographed posing as Lord Krishna.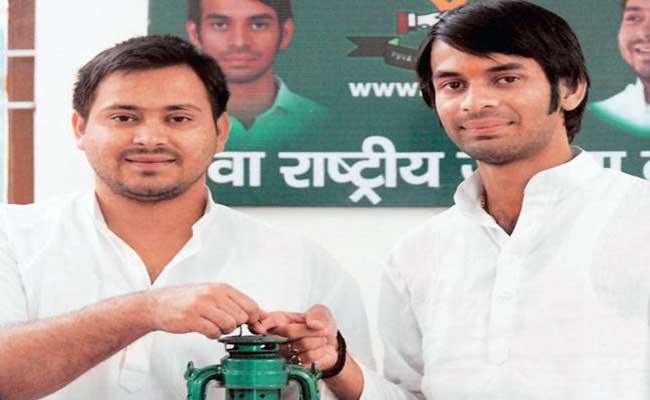 His younger sibling, Tejashwi, is Deputy Chief Minister of Bihar.
Lalu is barred from holding any public office because he was convicted in 2013 of corruption relating to his term as Chief Minister of Bihar in the 1990s. When he resigned as head of the government at that time, he installed Rabri Devi, innocent of any political experience, as his proxy.
The BJP says that the couple used their years in office - Lalu has also served as Railways Minister - to bestow lucrative contracts on companies who returned the favour by buying valuable real estate in cities including Delhi and Patna and then transferring it through a patchwork of shell firms to the Yadav children.
Misa Bharti, who is Lalu's daughter, has sought to postpone her interrogation by tax officials
in one of these allegedly illicit land deals.
Ahead of the 2015 election in Bihar, Chief Minister Nitish Kumar abandoned years of sustained hostility with Lalu to strike an alliance. With the Congress as a junior and third partner, they succeeded in defeating the BJP despite its campaign led by Prime Minister Narendra Modi.
In his birthday greetings yesterday, the
Chief Minister described Lalu as a man "who does not look 70"
- one of many compliments. On Twitter today, Lalu said his fighting spirit also remains intact, quipping, "
abhi to mein jawaan hoon
."