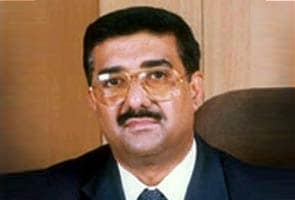 Hyderabad:
One of Andhra Pradesh's most senior bureaucrats, IAS officer BP Acharya, has been arrested in Hyderabad in connection with what's known as the Emaar scam. Mr Acharya is the Principle Home Secretary. Here are five big facts about the case:
1) What is the alleged scam?
In 2003, Dubai-based real estate giant Emaar Properties formed a joint venture with the Andhra Pradesh Industrial Infrastructure Corporation (APIIC), which is run by the government. The partnership granted 75% equity to Emaar and the rest to the APIIC. The plan was to build a high-end township on 535 acres in Gachibowli. In addition to luxury villas, there would be a golf course and a hotel. In 2006, MGF, another Dubai-based infrastructure company, was brought into the partnership and APIIC's stake was diluted to 6.5%. Mr Acharya was then the Managing Director of APIIC and sanctioned the revised terms instead of getting the government's clearance. The CBI alleges that the new arrangement allowed Emaar-MGF to gain an undue benefit of Rs 2500 crore. APIIC says the developers have cheated it of crores of profit by siphoning money to Dubai.
2)Why is the swindle high-profile?
Over 100 film stars, politicians and celebrities have been questioned by the CBI for having bought 135 villas sold at Rs 5000 per square yard, when the market rate was at least Rs 60,000 per square yard, causing a loss to the government.
3)Who has been arrested?
Mr Acharya, who faces charges of criminal conspiracy and cheating, is the fourth arrest in the case. A day after his arrest, Mr Acharya has been admitted in the NIMS hospital in Hyderabad. the In recent days, an industrialist named Koneru Prasad and Sunil Reddy, who is a close aide of politician Jagan Mohan Reddy, have been jailed. Vijay Raghavan, the South India finance head of Emaar-MGF, was arrested this Saturday.
4)Why is Jagan Mohan complaining about the case:
Jagan's father, YSR, was Chief Minister when the state's controversial partnership with Emaar was forged. YSR died in 2009 in a helicopter crash. It is alleged that companies who benefitted from the land scam invested in Sakshi publications, which is owned by Jagan's media empire. Those close to Jagan claim the case exemplifies political vendetta.
5)Who else is being scrutinised?
Parthasarathi, the brother-in-law of Congress MP KVP Ramachandra Rao, who was director of APIIC from June 2008 till May 2010, is also named as accused in the case. Mr Rao's wife was among those who were allotted a villa. He is a Rajya Sabha MP from Andhra Pradesh.