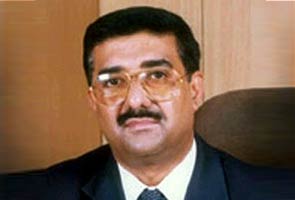 Hyderabad:
Two days after the Andhra Pradesh High Court cancelled his bail, suspended IAS officer BP Acharya, prime accused in the Emaar township scam, surrendered on Thursday before a special CBI court here.
The court remanded the 1983-batch officer in judicial custody till Friday and he was taken to Chachalguda Central Prison.
The court accepted Mr Acharya's plea to accord him special class prisoner status (which allows him to avail additional facilities in the jail).
The high court on March 27 had cancelled Mr Acharya's bail and asked him to surrender before the special court forthwith.
Mr Acharya, a former head of state-run APIIC which signed a deal with Emaar, was Andhra Pradesh's home secretary when he was arrested by CBI, which is probing the scam, on January 31.
On March 16, the lower court had ordered release of Mr Acharya as the mandatory sanction for his prosecution was not obtained from the Centre by the investigating agency.
CBI, in its charge sheet filed on February 1 against Acharya and others, which include individuals and private companies, had booked them under relevant sections of IPC and Prevention of Corruption Act.
The scam relates to alleged irregularities in land transfer and sale of villas and apartments in Emaar Group's township project at Gachibowli here.
The CBI, in its FIR last August, charged Mr Acharya, then CMD of Andhra Pradesh Industrial nfrastructure Corporation (APIIC), with entering into a criminal conspiracy with officials of Emaar Group and unknown public servants to cheat APIIC and secure wrongful gains to the Dubai-based infrastructure firm.
However, Mr Acharya has claimed he has been made a scapegoat in the case and the real conspirators were roaming free.