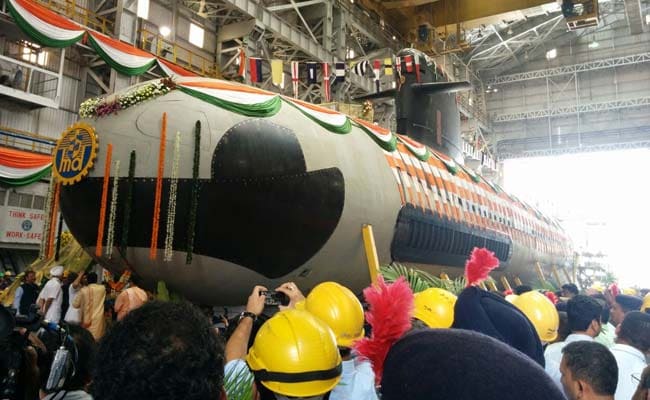 MUMBAI:
As India's navy prepares to commission one of world's stealthiest and most deadly fighting submarines later this year, a top Naval commander has called delays in ship and submarine building "an area of concern".
INS Kalvari, an indigenously-built attack submarine,
was delivered last week, nearly four years behind schedule.
It is the first of six French-made Scorpene submarines on order in a Rs 236 billion project awarded to the government-run defence shipyard, Mazagon Dock Shipbuilders Ltd. and France's Naval Group.
The order, placed in 2005, had targeted to reach the first submarine to the Navy by 2013.
The submarine could be commissioned sometime in November and December after completing a few more trials. One of the dates being considered is 8 December, celebrated as Submarine Day in the Indian Navy to mark the previous Kalvari, a foxtrot class submarine, India's first, which was commissioned into the navy five decades earlier.
"In our ship building and submarine building, we need to reduce the time frame because as you know, when there is a time overrun, inevitably many a time there is also a cost overrun... this has been an area of concern in all ship-building projects," Chief of the Western Naval Command Vice-Admiral Girish Luthra told reporters.
He insisted that the delay was not linked
to the leak of highly sensitive details
about the combat capabilities on the Scorpene submarine last year.
Named after a deep-sea tiger shark, INS Kalvari is considered a milestone in India's efforts to rebuild its badly depleted underwater fighting force.
India has just about 15 submarines
, a mix of Russian-origin Kilo class vessels and German HDW submarines.
China has four times as many.
As part of the trials, it had
successfully fired an anti-ship missile in March
and a torpedo in May.
The submarine has the capability to launch attacks with torpedoes, tube-launched anti-ship missiles both while underwater or on surface in all theatres, including the tropics, giving it invulnerability unmatched by many other submarines.
The second submarine, named Khanderi,
was launched on January 12 this year, and will undergo rigorous tests and trials in the harbour and at sea, on surface and underwater till December this year. It will be commissioned in the Navy after that.
With 30% indigenous components on board, the Make-in-India submarine, Vice-Admiral Luthra said INS Kalvari had already spent nearly 110 days at sea doing various trials, weapon firings and acceptance trials.