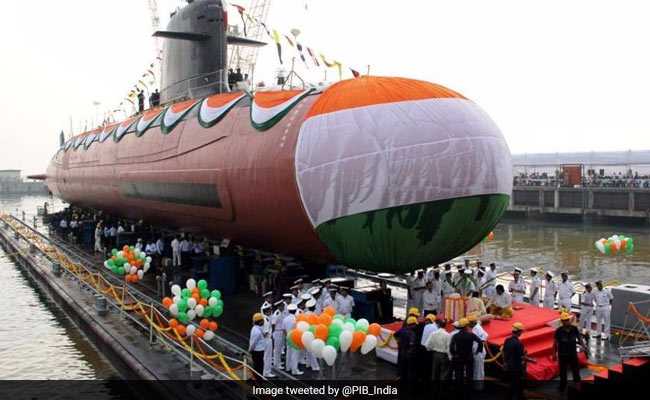 New Delhi:
INS Kalvari is a made-in-India submarine that has been commissioned into the Indian Navy today. The construction of INS Kalvari at the Mazgaon docks began in 2006. It has been delivered nearly four years behind the schedule. Five submarines of the same class are being built by Mazagon Dock Limited. The submarine has been designed by French naval defence company DCNS. The second Scorpene class submarine is undergoing sea-trials and will be commissioned in March 2018. With the induction of INS Kalvari, the Indian Navy operates 14 conventional submarines and two nuclear powered ones.
Here's all you need to know about India's deadliest Scorpene class submarine - INS Kalvari:
INS Kalvari is the most modern non-nuclear submarine in the Navy. 'Kalvari' is a Malayalam word that means deep-sea tiger shark. It reflects its agility, strength and predatory prowess. Prime Minister Narendra Modi has called it an "excellent example of Make-in-India and is also a testimony to growing strategic partnership between India and France."

INS Kalvari, which was put through extensive trials for more than four months, is powered by an extremely silent diesel-electric motor making it very difficult to detect underwater.

The submarine fires torpedoes and Excocet anti-ship missiles.

The Scorpene submarines can undertake different types of missions including anti-surface warfare, anti-submarine warfare, intelligence gathering, mine laying and area surveillance.

According to Indian Navy, the scorpene submarine has the capability to launch attacks with torpedoes and tube-launched anti-ship missiles both while submerged or on surface and is designed to operate in all theatres including the Tropics.

The length of INS Kalvari is 67.5 metres and a height of 12.3 metres and displaces 1,600 tonnes. The heart of the Kalvari's weapons system is SUBTICS or Submarine Tactical Integrated Combat System suite which processes information from the sonars on-board the submarine in detecting targets which can then be engaged with torpedoes or missiles.

INS Kalvari has an attack-and-search periscope equipped with infrared/low light level cameras and laser range finders to spot targets on the surface of the sea.

INS Kalvari is the first conventional submarine to be inducted into the Navy after more than 17 years, even as the navy's submarine arm celebrates it golden jubilee in 2017. The Navy last inducted a conventional diesel-electric submarine, INS Sindhushastra, procured from Russia in July 2000.

The very first Indian Navy submarine also bore the name Kalvari and was commissioned in December 1967. It was decommissioned on May 31, 1996 after nearly three decades of service.

The second of the Scorpenes under construction at Mazagon Dock Shipbuilders Limited, Khanderi, was launched in January 2017, and is undergoing rigorous sea trials. The third Scorpene, Karanj, is being readied for launch shortly. The remaining three submarines are in various stages of outfitting. The project is expected to be completed by 2020.
Post a comment