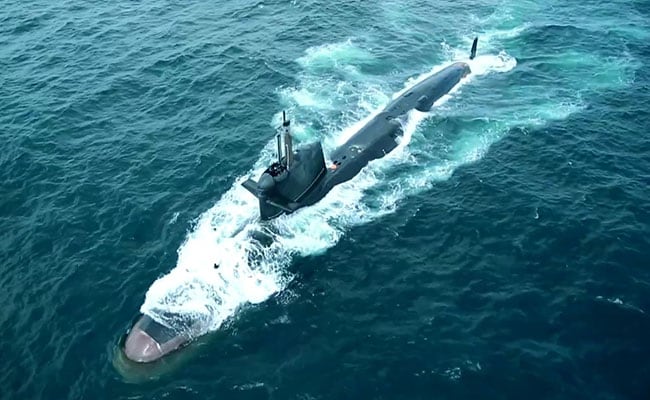 New Delhi:
The second and third of the six Scorpene-class submarines, part of Project-75 of the Indian Navy, are undergoing sea trials while the rest are under construction, a senior naval officer today said.
Interacting with reporters during an event at Kota House in Delhi, Commandant of National Defence College Vice Admiral Srikant also said the air independent propulsion (AIP) indigenous system for submarines, on which the DRDO is working, will go for marine testing.
He was speaking at the launch of a teaser of 'Breaking Point: Indian Submariners', a four-part series which will air on the Discovery Channel on March 19.
"The second and third of the six Scorpene-class submarines are undergoing sea trials while the fourth, fifth and the sixth are under construction. We want to focus on first getting all these submarines commissioned, before going in for more submarines," Vice Admiral Srikant said.
Prime Minister Narendra Modi had on December 14 commissioned INS Kalvari, the first Scorpene-class submarine, into the Navy in Mumbai, and described it as an excellent example of 'Make in India' that will boost the Navy's might.
INS Kalvari is a diesel-electric attack submarine that has been built for the Indian Navy by Mazagon Dock Shipbuilders Ltd.
Kalvari is named after the dreaded tiger shark, a deadly deep sea predator of the Indian Ocean. The submarine had undergone around 120 days of extensive sea trials and tests of various equipment.
The submarines, designed by French naval defence and energy company DCNS, are being built by Mazagon Dock Ltd in Mumbai as part of Project-75 of the Indian Navy.
The first Kalvari, commissioned on December 8, 1967, was also the first submarine of the Indian Navy. It was decommissioned on May 31, 1996 after nearly three decades of service.
To a question on the accident suffered by INS Chakra, Indian Navy's only nuclear-powered submarine, he said, "85 per cent of the reports on it was incorrect."
INS Chakra is a nuclear-powered submarine which was taken by India on lease from Russia in 2012 for a period of 10 years.