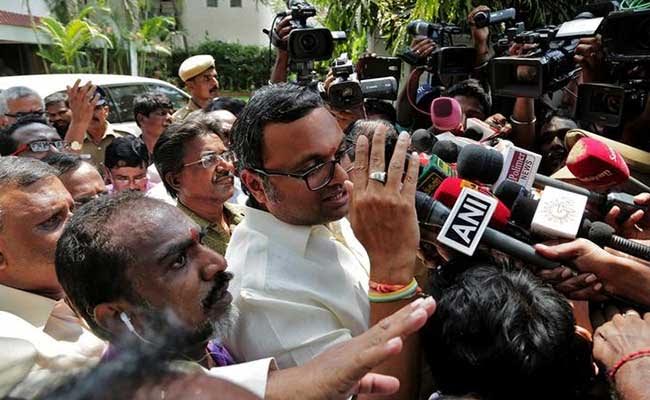 Highlights
CBI said Karti Chidambaram made trips abroad to conceal secret assets
P Chidambaram dared CBI to back up its "absolute lie" about his son
He asked CBI to reveal secret assets owned by his family
NEW DELHI:
Senior Congress leader P Chidambaram dared the Central Bureau of Investigation to back up its "absolute lie"
about his son Karti Chidambaram's undisclosed foreign bank accounts
and asked the central agency to reveal the secret assets owned by the family. If the CBI can find any, the family would readily turn over these assets to the government, the senior politician said.
Karti Chidambaram, 45
, also took on the CBI. The charge that he had secret assets abroad and made overseas trips to conceal them, he said in a swipe at the agency's claim, "makes me feel like I am part of a @007 movie".
Secret/Undisclosed Accounts/Properties, Overseas trips to conceal them etc etc makes me feel like I am part of a @007 movie :) :)

- Karti P Chidambaram (@KartiPC) September 22, 2017
The stinging response from the Chidambaram family to the CBI claim
came hours after a top government lawyer sought to justify in the Supreme Court
a
lookout circular issued in July against Karti Chidambaram.
Additional Solicitor General Tushar Mehta had told a three-judge bench of the top court that Karti had been going abroad to close his undisclosed bank accounts.
Karti's lawyer Kapil Sibal had contested the charge, saying there was nothing to stop the CBI from prosecuting his client if they could show Karti's signature on any offshore account that he was alleged to own. He also pointed that the CBI had not asked him about his foreign bank accounts though he had been questioned twice.
The central probe agency named Karti Chidambaram
in a corruption case this May for foreign investment approvals to Indrani and Peter Mukerjea
for setting up the INX network of television channels. The charge against Karti is he helped
get the approvals
in return for kickbacks.
He has denied the accusation on several occasions.
His father has long insisted that Karti is being targeted by the NDA government
only because he is his son but "the real target is me".
"Why doesn't CBI take my open offer and name the alleged 'undisclosed assets'? the former minister asked after the probe agency's submission in court were reported by the media. "An absolute lie, by quoting CBI, lie doesn't become truth," he said, asking the CBI to reveal the secretly-held assets it could establish.
"I have already made a public statement that my family and I will execute any document necessary to transfer the alleged 'undisclosed asset' to the government so that government can become the owner," the senior Congress leader added.