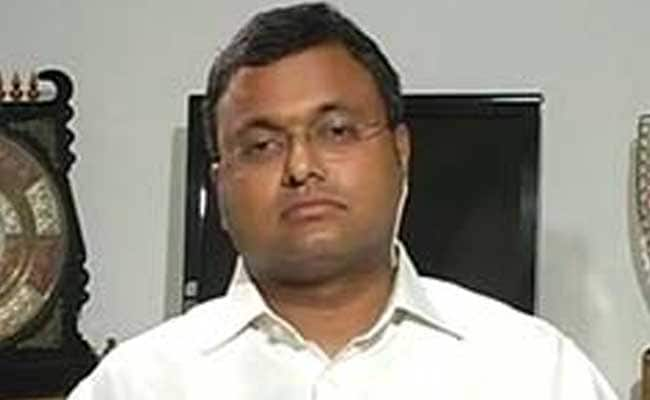 Highlights
CBI named Karti Chidambaram in an INX network related corruption case
Mr Chidambaram had last week skipped CBI's summons for questioning
Lookout notice prevents him from going abroad without CBI's permission
NEW DELHI:
Karti Chidambaram, the son of Congress leader P Chidambaram
, went abroad to close his undisclosed foreign bank accounts and transfer the money from these accounts, the Central Bureau of Investigation told the Supreme Court today
in defence of a lookout circular against the senior politician's son
.
The central probe agency named Karti Chidambaram
in a corruption case this May for foreign investment approvals to Indrani and Peter Mukerjea
for setting up the INX network of television channels. The charge against Karti is he helped get the approvals in return for kickbacks. He has been questioned twice about this case and denies the charges.
The CBI had earlier approached the top court to restore the lookout notice issued in July to prevent Karti Chidambaram from going abroad without the agency's permission. Last week, he
skipped the agency's summons for questioning
, insisting that they really had no valid case against to interrogate him.
The next day,
the former minister had, in tweets, said the CBI should not harass his son
and the agency should direct its queries about approvals given by the government during his tenure at the finance ministry, to him.
At the top court's hearing on Friday, a three-judge bench headed by Chief Justice Dipak Misra
heard the CBI defend the lookout circular
that Karti, 45, had challenged in the top court. The court will hear the case again on 4 October and has told Karti that he would have to stay put in India in the interim.
"What he did abroad is part of this sealed cover," Additional Solicitor General Tushar Mehta told the bench which also comprised Justices AM Khanwilkar and DY Chandrachud.
When senior lawyer Kapil Sibal who is representing Karti in this case repeatedly asked the court not to allow any information to be placed in a sealed cover, Mr Mehta said the secret note detailed his activities during his previous foreign visits.
"He said (during interrogation) he has only one account abroad. But when he went abroad, he closed several bank accounts. I don't want to say all this as it will embarrass him but I have been compelled," Mr Mehta told the bench.
Mr Sibal contested this version, insisting that CBI had not asked a single question on the bank accounts. "If they can show any signature of Karti on any account, they can prosecute him under FEMA (foreign exchange management law) or black money law," the former union minister, also a practising senior lawyer said.
In a statement to news agency Asian News International, former Finance Minister P Chidambaram later described the CBI's claims as an "absolute lie" and challenged the CBI to reveal the secret assets that his son had.