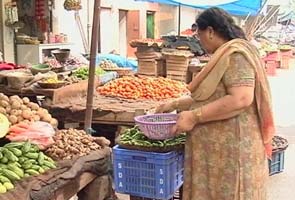 New Delhi:
There is something terribly ironic about the current political storm over the decision to allow FDI into multi-brand retail. Ironic because, as we found out when we first reported this a year ago, big retail is only a tiny blip in India's economic radar, nowhere enough to provoke such exaggerated benefits by the government, or such widespread protests by the opposition. But today, it has brought the government to the brink of crisis, which merits an occasion to revisit the claims and counterclaims made by both sides and expose a fresh round of propaganda and doublespeak.
Of all the myths perpetuated by those for and against retail in FDI, the biggest is the concern for the Indian farmers. The government claimed big retailers will help the farmer by buying directly from him or her. Right now the farmer can only sell to government controlled
mandis
which are dominated by oppressive middlemen. Commerce Minister Anand Sharma says farmers will get a better price for the produce. He also said retailers will create storage and transportation chains, which will add value to farm produce.
The opposition - whether its Mamata Banerjee or Nitish Kumar - says the retailers will hurt the farmer by enslaving them in contract farming.
Both arguments smack of double standards. Let us begin first with the critics of FDI in retail, whose objections to contract farming by multinationals argument is different from the reality in their own states.
The year Mamata Banerjee came to power, PepsiCo sourced thrice as many potatoes from West Bengal's farmers. The US multinational has been buying potatoes for its Lays Chips for over three years now, but the change in guard made no difference. In fact, procurement went up from 22,000 metric tonnes in 2010 to 60,000 metric tonnes in the current year. Pepsi says the agreement benefits more than ten thousand farmers in six districts in West Bengal.
When asked about this, West Bengal's Minister in charge of Agricultural marketing gave contradictory responses. He first said that if any farmer wants to contract with Pepsi, he has no objection. But then he also said his government is against contract farming.
But if farmers cannot sell to Pepsi, the alternative is the Sealdah
mandi
, Calcutta's main market for vegetables. Every day, thousand tonnes of vegetable is wasted. And it is so dominated by middlemen, that those who have done business here say that no farmers even make it to the market.
We are not suggesting that contract farming is necessary as it comes with its own problems. But options for the Indian farmers are limited, and if political parties like the Trinamool Congress want to close down big retail, they better have an alternative in mind. What that is, is anyone's guess.
A similar doublespeak by three states which also voiced strong objection to FDI in retail: Bihar, Madhya Pradesh and Odisha. But all three states have signed on global consultancy firm Ernst & Young to help them attract private investment in the farm sector.
Odisha was first off the block.
Ernst & Young's Siddharth Das says that the idea is to connect Odisha's farmers with retail players like Future Group, which runs the Big Bazaar chain of stores. He confirmed that Bihar and Madhya Pradesh are coming on board by the end of this year.
But the reason for getting on board, to attract big retailers who can buy directly from farmers, which is precisely the reason these states have been opposing FDI in retail.
Bihar, for instance, in its letter to the government rejecting FDI in retail, says the fact is that the "giant retailers would have far greater buyer power vis-a-vis the farmer, compared to the existing intermediaries... and would further worsen the problems for the farmers."
When asked about these contradictions, these states argue that they are not against Indian retailers, but only against foreign retailers who, according to them, are more oppressive.
But, as Mr Das of Ernst &Young says, middlemen who dominate these
mandis
are more oppressive than foreign retailers.
Moreover, Ernst and Young is not only looking at just Indian retailers, but also linking Indian farmers in these states to foreign food chains, like Canada's Loblaws', or the Middle Eastern companies Gyma and Barakhat.
The UPA would be wise to not gloat at these examples of political double standards by their opponents. Its own statements don't stand much scrutiny, starting with the fallacy that private investors are needed to create an agricultural backend, thereby outsourcing its own responsibility.
Between 2010 and 2012, the government cut down expenditure on food storage and warehousing by Rs. 1453 crores. This was part of an overall decline in public investment in agriculture. In the same period, revenue expenditure on agriculture and allied activities fell by Rs. 5422 crores.
An even deeper fallacy is the government's and opposition's vision of a stampede of big global retailers, and as always the reality being very different.
By coincidence, the World Retail Congress opened in London this week, days after India opened up its retail sector. But the top global retailers gathered there, barely seemed interested in the India story. Regulars at the Congress say the interest in India has been declining steadily.
The head of leading retail consulting firm TechnoPak, Arvind Singhal said that at last year's summit in Berlin, there were barely any attendees at the Indian Forum. The reasons vary: from global recession to a dent in the India growth story to even the sky high rentals in Indian cities.
Sameer Jasuja, CEO of PropEquity, says that rentals in major Indian metros are amongst the highest in the world. He says that that all the new retailers that are going to come in from abroad are going to find a lack of affordable space. Which is why big Indian retailers cannot afford to sell things on the cheap. Similar to an exercise we had conducted last time, we sent our reporters in major Indian cities to compare prices of food items in modern retail stores with nearby
kiranas
. In every case, whether it is Delhi, Lucknow or Bangalore, the prices in chain stores were not uniformly less than the street price. In fact, in some cases they were higher.
The lack of a price advantage and high rentals has pushed big Indian retailers into deep trouble. Last year, Reliance Fresh posted losses of Rs. 247 crores while the Aditya Birla group, which runs the chain of More supermarkets, posted a loss of Rs. 423 crores and Spencers had a negative margin of -27%.
Wal-Mart, already in India with its partner Bharti, is aware of these obstacles. Bharti's Easy Day chain posted losses of Rs. 266 crores last year.
Wal-Mart's Raj Jain told us that they are already looking at scaled down operations to suit the Indian context.
Little wonder then that the FDI announcement has not led to a stampede of global retailers, but actually the reverse. Mr Singhal says that the silence from international players is even more deafening that it has been a year ago. The only noise or excitement, he says, is in the media.
The government's jaded response is that we just make policy, we cannot guarantee that big retailers will come. But if the government is guilty of exaggerating the positive impact of big retail, is the opposition guilty of exaggerating its negatives? After all foreign players are wary since big Indian retail is bleeding. The informal retail is still 95% of the market, and growing.
The BJP has no answer to this. They agree that the government is hyping the advantages of big retail, but refuse to concede the counter implication, that they are hyping its risks.
The simple reality is that foreign players will come, but in far smaller numbers. But they are unlikely to nibble into the larger pie of how Indians shop:
kirana
stores,
redas
,
thelas
, and so on.
But the bigger challenge is not the consumers, but the farmers. The arrival of organised retail will give the farmers more options to sell their products. But they are going to be too small to make a difference.
So what is the solution? Why not empower farmers through rural co-operatives which will allow them to pool resources and create cold chains, processing and marketing networks, like Amul did with milk? They can supply big retailers - Indian, foreign, or
mandis
or to the consumer directly. They will be in charge. But to nurture such initiatives and not interfere needs political will. And that at the moment is in short supply.