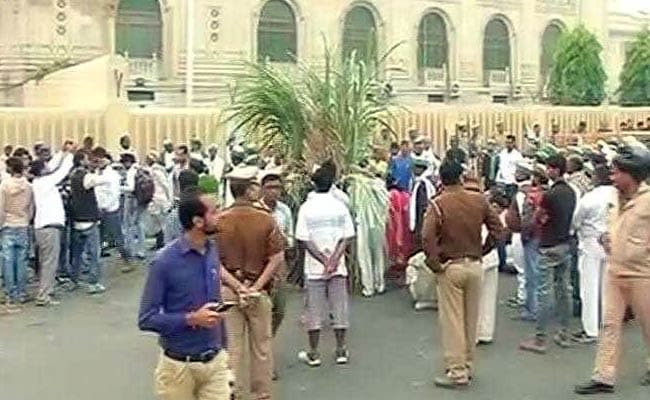 Lucknow:
Hundreds of sugarcane farmers in Uttar Pradesh burnt their crop outside the Vidhan Sabha here on Saturday and raised slogans against the Yogi Adityanath government, terming the Rs 10 hike in MSP as "paltry".
The state government two days back had increased the minimum support price (MSP) for sugarcane by Rs 10/quintal, bringing the MSP to Rs 315 per quintal.
The angry farmers said the BJP had gone back on its poll promise of fixing sugarcane price at Rs 450 per quintal.
The farmers, led by the Bharatiya Kisan Union, also threatened to launch an agitation across the state if their demands were not met within a fixed time frame.
Harinam Singh Verma of the BKU said the BJP government has rubbed salt on their injuries with such a paltry hike and said the Adityanath government was behaving like its predecessor by taking the side of the sugar mill owners.
The farmers first set sugarcane on fire outside the state assembly building and the state BJP headquarters and later headed towards the Collectorate.
The farmers will now get Rs 3.15 per kg against the earlier price of Rs 3.05 per kg. The sugar cane industry has however welcomed the price hike by the state government as reasonable.