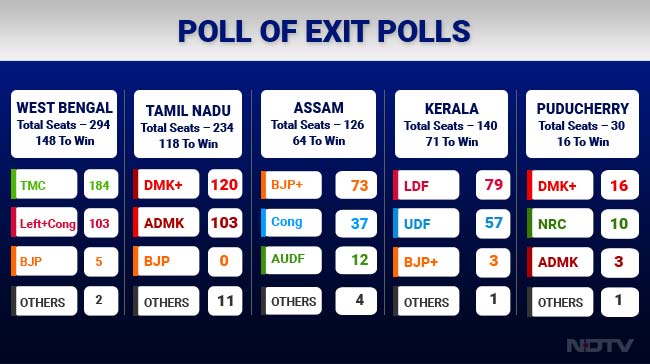 Highlights
Poll of polls estimates BJP and allies winning 73 of 126 seats in Assam
Left expected to win Kerala from Congress with 79 of 140 seats
DMK ahead in Tamil Nadu with 120 seats, Jayalalithaa's AIADMK at 103
New Delhi:
Exit polls today for five states show the Congress reduced to a tiny bleep. Assam and Kerala have both voted for change. And Bengal has opted decisively once again for Mamata Banerjee.

It's a big win for the BJP in Assam, according to early exit polls, which show the party winning its first North Eastern state.

The poll of polls - which aggregates different exit polls - shows the BJP and its allies get 73 of a possible 126 seats - an easy win.

The Congress, led by Chief Minister Tarun Gogoi, crashes to 37 seats. Mr Gogoi was seeking a fourth consecutive term in Assam. Ahead of the election, a powerhouse aide, Himanta Biswa Sarma, switched sides to the BJP to serve as its much-needed strategist. The BJP's presumptive Chief Minister is Sarbananda Sonowal, currently a union minister. The main Muslim party in the state, the AIUDF, headed by Maulana Badruddin Ajmal gets 12 seats - which helps the BJP (by splitting the vote traditionally accrued to the Congress).

The Congress chose not to ally with any party in Assam - a big mistake, according to analysts. "We should have followed a Bihar-like policy and collected an anti-BJP front here too," said the party's Mani Shankar Aiyar.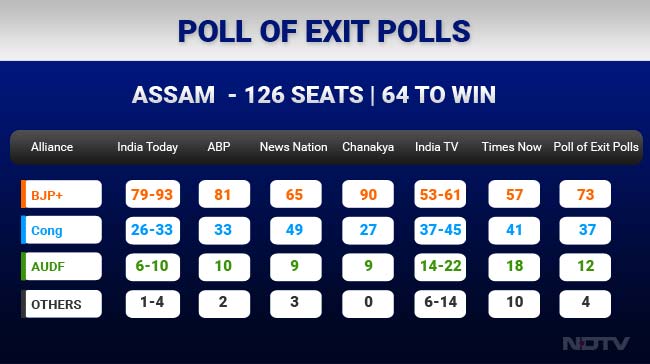 The poll of exit polls for Bengal shows Mamata Banerjee getting 184 of a possible 294 seats, giving her another big win. Her Trinamool Congress already had 184 seats till this election, so there's hardly any anti-incumbency for her. The Left and Congress, which were allied, get 103 seats, and the BJP gets five.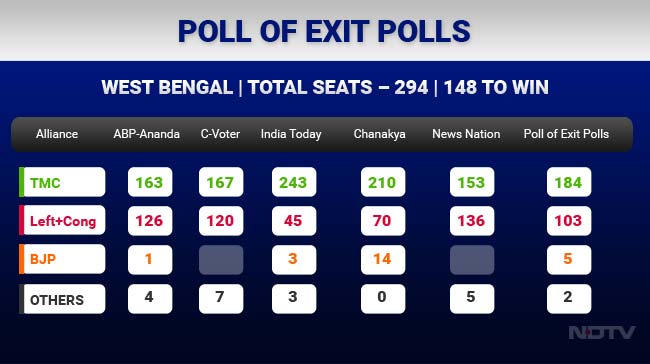 Aggregated exit polls for Kerala show the Left taking back the state from the Congress, with 79 of a possible 140 seats. The Congress-led UDF coalition, battered by corruption scandals, is down to 57 seats. The BJP gets three.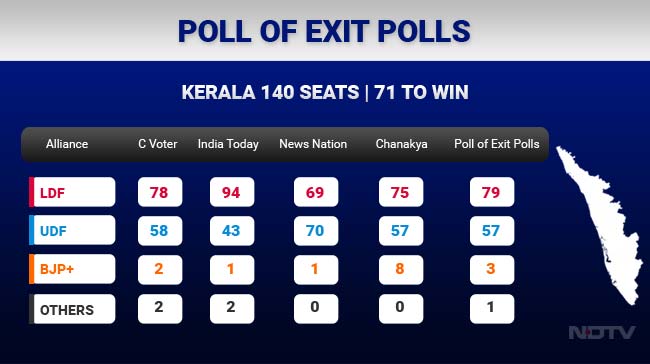 Tamil Nadu appears to have maintained its record of according alternate terms to its two big players. Chief Minister J Jayalalithaa is down to 103 seats, with the DMK and Congress coalition ahead at 120 according to aggregated results. The alliance is headed by M Karunanidhi, who is 93, and has said he plans to serve as Chief Minister. Mr Karunanidhi told NDTV last week that his son and political heir, MK Stalin, will not be Chief Minister "till Nature takes me out".

However, 15 crucial seats in Tamil Nadu are held by others - including the coalition headed by "Captain" Vijayakanth, which could make him the deciding factor in who forms the next government.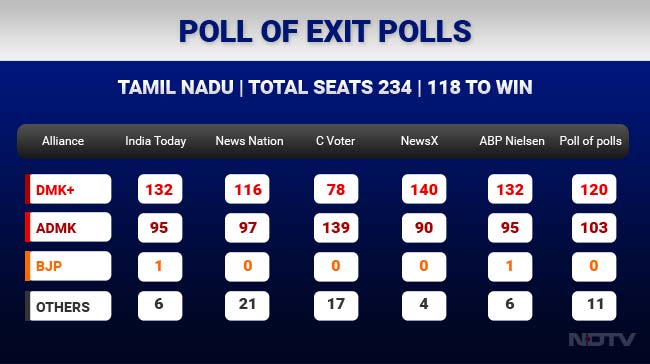 For the Congress, the lone bright spot appears to be Puducherry, where the party is set to win the state in alliance with the DMK.