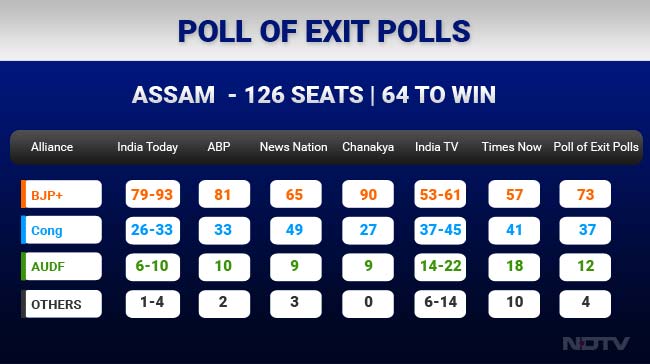 Highlights
Poll of 5 exit polls says BJP, allies to win Assam with 73 of 126 seats
This will be BJP's first victory in a North-Eastern state
Rebellion of Himanta Biswa against Tarun Gogoi to be key in Congress loss
New Delhi:
A Poll of Polls, aggregating five exit polls, shows the BJP winning Assam, its first North Eastern state, with 73 of the state's 126 seats.
The Congress, whose Tarun Gogoi has been chief minister for the last 15 years, is seen demolished with only 37 seats.
The All India United Democratic Front or AIUDF, led by Maulana Badruddin Ajmal will win 12 and others four seats, the Poll of Exit Polls shows. The hallway mark needed to form government in Assam is 63.
In 2011, the Congress had won 79 seats to form government for a third straight term. The BJP, a minor player so far had won 5, with the AIUDF winning 18.
The BJP, which had won seven of Assam's 14 seats in the 2014 national election, projected local leader Sarbanand Sonowal as presumptive chief minister in a change of strategy for Assam.
The separation of the charismatic Himanta Biswa, who rebelled against Tarun Gogoi and joined the BJP, would be key in the Congress' Assam debacle.
The NewsX-Today's Chanakya exit poll gives the BJP a whopping 90 seats, while the ABP-Ananda poll gives the party 81 seats. The Axis India Today Exit poll gives the BJP 79-93 seats.
India TV's exit poll and that of C voter sees the BJP as the single largest party but just short of majority.