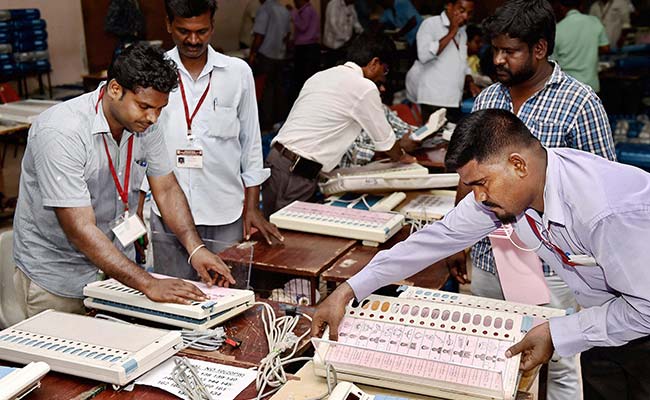 Highlights
EVMs used in Vikasnagar constituency to be taken into judicial custody
Congress' Nav Prabhat had alleged tampered EVMs helped BJP candidate win
Election Commission has strongly denied claims of EVM rigging so far
Nainital:
Electronic Voting Machines or EVMs used for the Vikasnagar constituency in the Uttarakhand assembly elections earlier this year will be taken in court's custody, the state's High Court has ruled, as it admitted a petition by a Congressman who lost the election from that seat.
Senior Uttarakhand Congress leader, Nav Prabhat, has challenged the election of the BJP's Munna Singh Chauhan from Vikasnagar, near capital Dehradun, alleging that the EVMs were rigged.
Opposition parties have alleged that the BJP's landslide win in Uttarakhand and neighbouring key state Uttar Pradesh last month was aided by tampered EVMs. The Election Commission has emphatically said EVMs cannot be rigged.
The Uttarakhand High Court has asked the Election Commission, the state poll panel and Mr Chauhan to send their replies within six weeks to notices that it served today. It has also asked the election commissions not to use the Vikasnagar EVMs for any elections till it issues further orders. The EVMs have not been used since the Uttarkahand elections since vote machines deployed for an election are not used again for at least two months after results are announced.
About 11,000 EVMs were used for the elections for Uttarakhand's 70 assembly seats; 139 EVM sets were used in Vikasnagar.
The BJP swept the hill state winning 57 seats, and the Congress has won 11. In Vikasnagar, Mr Chauhan beat Mr Nav Prabhat by a margin of more than 6,000 votes.
The Congress and other opposition parties have raised the EVM controversy in parliament and outside demanding that future elections be held on paper ballot. Delhi Chief Minister Arvind Kejriwal had sought that paper ballots be used for municipal elections in Delhi and several of its leaders have attributed the BJP's huge win in results announced yesterday to "manipulated EVMs".
The BJP has dismissed the allegations, calling its rivals poor losers. It has also asked the Congress why it has not questioned EVMs in Punjab, the only state it won in the assembly elections held in five states. Mr Kejriwal has, however, alleged tampering of EVMs in the Punjab election, in which his AAP fared poorly.