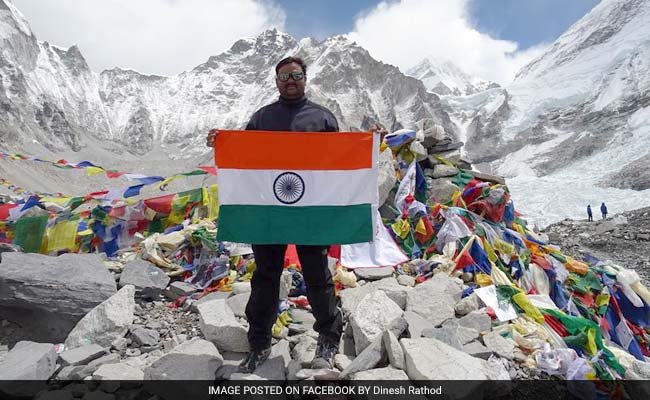 Kathmandu:
Nepal's Ministry of Culture, Tourism and Civil Aviation has reopened an investigation into the mountaineering ban imposed on an Indian couple after they were alleged to have faked scaling of Mount Everest in May 2016. The Ministry has decided to reopen the case after the Pune couple filed an application seeking re-issuance of their summit certificates at the earliest, the Himalayan Times reported on Saturday.
The summit certificates of Dinesh Rathod and his wife Tarakeshwari, both police officers in Maharashtra, were rescinded for presenting doctored photographs showing them on the top of the world's highest peak.
They were also suspended from Pune police in November last year after an inquiry found that their 'Himalayan' claims were "misleading and bogus".
After receiving the couple's application, Minister Jitendra Narayan Dev of the caretaker government immediately issued a written order in the name of the Tourism Department for the reopening of an investigation into the case, a Joint Secretary in the Ministry told the newspaper.
Dinesh Bhattarai, Director General at the Tourism Department confirmed that the Ministry had set up a three-member committee to relook at the case. "The panel will submit its report to the minister by early next week," he told the paper.
The couple is now in Kathmandu to lobby with the government authorities to get their summit certificates back, said an official at trekking agency Makalu Adventure, which ran the Everest expedition for them.
The Rathods had obtained certificates from the Tourism Department on June 10, 2016, by submitting allegedly morphed pictures that showed them on the roof of the world with Liaison Officer Ganesh Prasad Timsina and Makalu Adventure approving their claims.
The Sherpa guides, on the other hand, had remained out of touch at the time the couple's claims were questioned.
Makalu Adventure had been fined $4,000 for helping them obtain summit certificates by submitting allegedly fake claims to the Tourism Department.