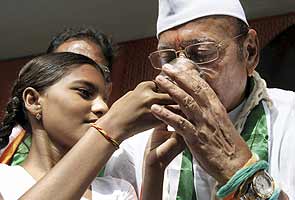 New Delhi:
The Election Commission (EC) has decided to issue a notice to senior Congress leader Shankarsinh Vaghela for alleging that the 2002 post-Godhra riots were orchestrated by the Narendra Modi government.
Mr Vaghela, the Congress's in-charge in Gujarat, made the allegation during an election campaign speech in Surat on October 31. The EC is expected to issue him a notice by this evening.
The EC had received a complaint against Mr Vaghela, seen a video clip of his speech and found it to be inflammatory and violating the election code of conduct.
Mr Vaghela had alleged in Surat that the Modi government had blood on its hands. "The foundation of this government rests on the 2002 carnage. Governments are made, but not on conspiracies. The people of Gujarat know this; that's why we are requesting the people for a change," he said.
Gujarat will vote in two phases on December 13 and 17. The counting of votes will be held on December 20.