Highlights
Rahul Gandhi campaigns in South Gujarat, attacks economic slowdown
India ranking higher for ease of doing business is no comfort, he says
GST and demonetisation have made business harder, not easier, he says
Bharuch:
As he moved through the district of Bharuch in south Gujarat, driving from one public meeting to another, the crowds surged, forcing Rahul Gandhi to clamber out of his bus and onto an open-top minivan.
This is Mr Gandhi's third foray to Gujarat to appeal to people to give his Congress party a chance; for 22 years, the state has been loyal to the BJP.
Over the next three days, he is scheduled to tour 35 of Gujarat's 182 constituencies. Muslims form 22 per cent of the population of south Gujarat, but the Congress vice-president's many remarks had no communal undertones. Instead, his singular focus was on attacking Prime Minister Narendra Modi for snagging the economy with the twin reforms of the new national sales tax or GST and demonetisation.
Last evening, the World Bank said India
has been promoted 30 spots
to No. 100 in its rankings for ease of doing business. The PM and his administration say it's because of structural reforms like GST that the country is progressing quickly and landing record foreign investment. Mr Gandhi, however, said at a rally, "The entire country will shout and say ease of doing business is absent, you have destroyed it, your demonetisation and GST have ruined it."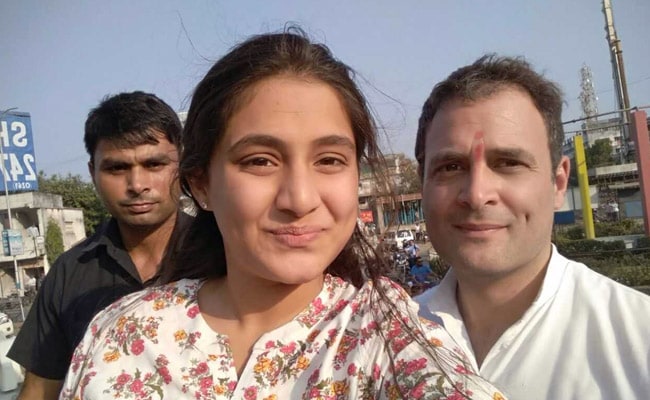 Through the day, as his derision of the new rankings was reported, Finance Minister Arun Jaitley tweeted that the
country has moved
from "ease of doing corruption" during its predecessor's supervision to "ease of doing business."
Mr Gandhi was unfazed. "Arun Jaitley-ji is working on the basis of some foreign institution," he said. "India does not need a certificate from foreign institution. India needs a certificate from the country, and the people are saying Narendra Modi, Arun Jaitley have failed."
In the last general election, the BJP won every parliamentary seat in south Gujarat, but the Congress has some strongholds in the region, especially in tribal belts.
In a state where 65 per cent of the population is younger than 35, Mr Gandhi has been hammering home a message of Gujarat confronting thwarted ambition because of unemployment. Describing the PM's Make In India campaign as a flop, he said, "
Your phones say Made in China
, not Made in India. Each time you push a button on your phone, a youth in China gets a job."
If the Congress is elected, he says, the party will provide a monthly unemployment allowance to class 10 graduates of Rs 3,000; Rs 4,500 for graduates, a smart phone for unemployed youth and waive loans for farmers.
Gujarat votes on December 9 and 14; results will be counted on December 18.