Highlights
India jumps 30 places, is No 100 on Ease of Doing Business List
Index prepared by World Bank which praises reforms by PM Modi
Only handful on industrialists find business easy: Rahul Gandhi
Jambusar, Gujarat:
The morning after India was recognised for vast self-improvement making it an easier place to do business,
Congress leader Rahul Gandhi
said that "it is just a handful of businessmen who have found the going easier" as he accused Prime Minister Narendra Modi of encouraging crony capitalism and failing to create jobs.
Mr Gandhi's criticism was made at a public meeting in Gujarat, where he is leading his party's campaign for December's election in Prime Minister Narendra Modi's home state. He reiterated his criticism of the new national sales tax or GST, reminding his audience in Jambusar, "I have called it the Gabbar Singh Tax". Gabbar Singh is one of India's best-known fictional villains from the blockbuster movie "
Sholay
".
Yesterday, the World Bank said that India has improved its ranking by 30 places and is 100th out of 190 countries for doing business. Mr Gandhi said that the PM and his administration are congratulating themselves over an assessment by "foreigners and not by our poor."
"Ask small traders about ease of doing business," he said, alleging that GST and demonetisation - described by him in an earlier speech as "twin torpedos" - have sunk entrepreneurs into losses.
In retort,
Finance Minister Arun Jaitley tweeted
that the difference between this government and its predecessor, which was led by Mr Gandhi's party, is "The ease of doing corruption has been replaced by the ease of doing business"
The difference between the UPA and NDA-"The ease of doing corruption has been replaced by the ease of doing business"

— Arun Jaitley (@arunjaitley) November 1, 2017
India was ranked 142 for ease of doing business during PM Modi's first year in office in 2014. He has declared a target to place India among top 50 and in the last two years has attracted record foreign direct investment. The new ranking of 100 "indicates India's endeavour to further strengthen its position as a preferred place to do business globally," Annette Dixon, World Bank vice-president for South Asia, said at a media conference in New Delhi.
India's economic growth slid to a three-year low of 5.7% in the last quarter, the result in part of PM Modi's sudden ban of high-denomination notes a year ago and this July's hurried rollout of the GST.
The World Bank rankings didn't take into account impact of demonetisation and the goods and services tax,
reported Bloomberg
.
The BJP has governed Gujarat for 22 years and its campaign is being fronted by PM Modi, who in his speeches emphasizes that GST and the notes ban are key structural reforms that will increase transparency, reduce prices through increased competition, and further economic growth while checking black money and corruption.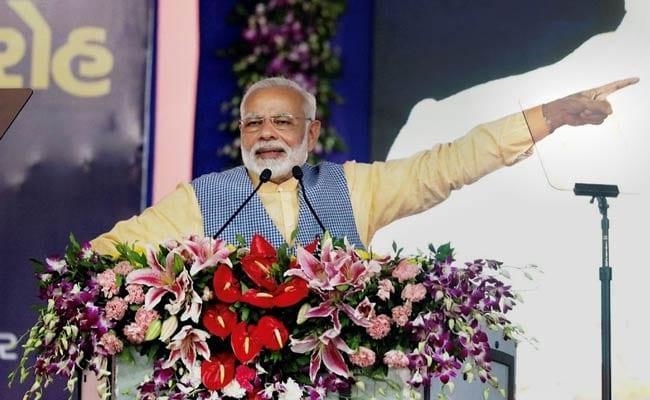 The "transitory" disruptive effects of both reforms are over and India's economic growth will see a "sizable turnaround" when September quarter numbers are out next month, Economic Affairs Secretary Subhash Garg said in an interview recently to Bloomberg.
65% of Gujarat's' population is younger than 35, so concerns over unemployment run high and this election has been overtaken by a tug-of-war between different castes demanding affirmative action policies that would entitle them to government jobs and seats in state-run colleges.
Mr Gandhi said that in comparison to China, where "50,000 jobs are provided by the government for the youth every day, in India, only 450 people get jobs every 24 hours". This, he alleged, exhibits the failure of the PM's "Make In India" initiative to promote manufacturing.
"Just take your phones and see the back... does it say 'Made in India'? No. It says 'Made in China'. Every time you click a button on your phone, a youth in China is getting a job," he said.
Gujarat votes on December 9 and 14; results will be counted on December 18.