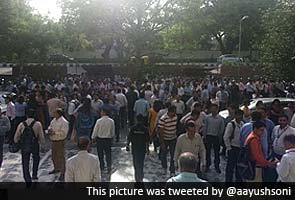 New Delhi:
Tremors were felt across North India shortly after 4 pm today as an earthquake of magnitude 7.8 struck Iran, (
See Pictures
) where at least 40 people were reported dead at 5 pm and many more were feared killed, according to local media.
The epicentre was reportedly along the Iran-Pakistan border.
"The aftershocks felt were 6.3 (magnitude) and at 4.24pm. No damage as such occurred," said RS Dattatreya of the Meteorological Department in Delhi.
In Delhi and Gurgaon, some posts on Twitter shared photos of evacuated buildings. (
Tweets on the earthquake
)
Earlier in the day, Arunachal Pradesh recorded an earthquake of 5.5 on the Richter scale. No casualties were reported.
Tremors caused by the Iran quake were felt this evening in Jaipur, Ahmedabad and Chandigarh. (
Did you feel the tremors? Share your experience
)
The US Geological Survey says the quake was at a depth of 15.2 kilometers (nine miles).
Across the Gulf, high-rise buildings swayed and officials ordered evacuations. Dubai has the world's tallest tower, the 828-meter (2,717 -foot) Burj Khalifa.
The quake also shook large parts of Pakistan including Islamabad, where buildings swayed, and the largest city Karachi, where tremors also prompted many to flee buildings in terror.
The earthquake was not felt in the Iranian capital Tehran, however.
It comes a week after a strong earthquake struck near Iran's Gulf port city of Bushehr, killing at least 30 people and injuring 800 but leaving Iran's only nuclear power plant intact.
Google map of the epicentre of the earthquake