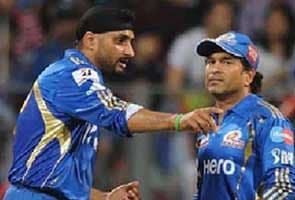 Kolkata:
As the sixth edition of the Indian Premier League (IPL) kicks off today, political pitch over hosting its matches in drought-hit Maharashtra has been growing. IPL chairman Rajeev Shukla, who is also the Minister of State for Parliamentary Affairs, slammed the BJP saying the party is raising a controversy against the IPL on 'unnecessary grounds'.
Speaking exclusively to NDTV in Kolkata, Mr Shukla said, "The BJP doesn't want anything good to happen to this country. I would like to ask the BJP that all their top leaders, living in huge bungalows in Delhi with sprawling lawns, can anyone of them give water for the drought-affected areas of Maharashtra. It's only a publicity stunt."
Leader of opposition in the Maharashtra legislative council Vinod Tawade had written a letter to Mr Shukla claiming 65 lakh litres of water would be wasted watering the grounds and pitches in three stadiums: Wankhede in Mumbai, DY Patil in Navi Mumbai and the Sahara stadium in Pune.
"What sense does it make to use many thousand litres of water to maintain the pitch on which cricket matches are played. This water is used in a state seeing the worst drought of the century. It is not justified," he said.
Raj Thackeray's Maharashtra Navnirman Sena (MNS) and the Shiv Sena have also objected to IPL matches being played in the city for the same reasons. Shiv Sena last week asked owners of IPL teams to contribute Rs. 500 crore towards drought relief.
Mr Shukla dismissed the claims by saying, "IPL matches do not consume so much of water that there will be drought. People in Mumbai should consume less water in their bungalows."
NCP, an ally of the ruling Congress in the state, said that the BJP is raising a non-issue as there is no drought in Mumbai and Pune. However, when self-proclaimed spiritual leader Asaram Bapu used 50,000 litres of water on pre-Holi celebrations in non-drought affected cities like Nagpur and Navi Mumbai, the Maharashtra government banned him from further celebrations.
The IPL's sixth season will kick off today in Kolkata with a star-studded opening ceremony. The matches will begin on April 3 and end on May 26.