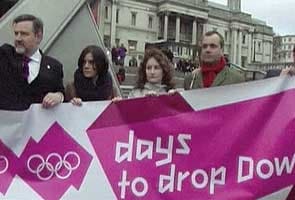 London:
Activists protesting against Dow Chemical's sponsorship in London Olympics 2012 have challenged London Mayor Boris Johnson and Olympic Committee head Sebastian Coe to drink the contaminated ground water from the site of the Bhopal Gas disaster.
The challenge from a survivor of the Bhopal Disaster comes with 200 days left before the London Olympics begin. According to the protesting activists, "this water is contaminated with highly toxic chemicals that Dow's subsidiary, Union Carbide, recklessly dumped while their Bhopal factory was in production."
Farah Williams, a survivor of the Bhopal Disaster, has invited Lord Coe and Mayor Johnson to taste some of Dow's 'finest produce', said a press release.
Ms Williams, according to the press release, is "issuing a challenge to Mr Coe to share a glass of Bhopal water."
The press release said, "She (Williams) will have a specially designed bottle of B'eauPal drinking water (a spoof mineral water product) and can be filmed or photographed in front of the Olympic Countdown clock. The clock will be adorned with a specially designed banner explaining that there are only '200 Days Left to Dump Dow'!"