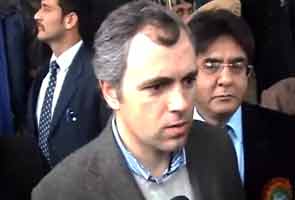 Srinagar:
The much-awaited reshuffle of the four-year-old Omar Abdullah cabinet in Jammu and Kashmir will be carried out on Tuesday in the first such exercise after the Chief Minister assumed office and less than two years ahead of the next Assembly elections.
The ruling coalition partners--National Conference (NC) and Congress--remained tight-lipped about the possible changes in the ministry.
Congress sources said the party cleared its list last week during a meeting Union Health Minister Ghulam Nabi Azad and state Congress Chief Saif-ud-din Soz had with Congress President Sonia Gandhi.
The reshuffle will be the first after the 23-member Omar Abdullah government was sworn in on January five, 2009.
Ahead of the reshuffle, the Chief Minister used micro-blogging site 'Twitter' to share his sentiments with his party MLAs.
"Dear aspiring ministers please don't come and ask me to make you ministers. Trust the Almighty and your destiny, leave the rest to me," the tweet said with a smiley at the end.
Omar was in continuous touch with party president and Union Minister Farooq Abdullah about the selection of new Ministers from the party.
During the beginning of the coalition government, NC and Congress had agreed for 11 ministers each besides an Independent MLA from Tangmarg Ghulam Hassan Mir.
One vacant ministerial berth belongs to Congress after GM Saroori resigned following allegations that he had helped his daughter in medical entrance examinations.
In the Congress circles, the names that were doing the rounds included Saroori and Ghulam Ahmed Mir, an MLA from South Kashmir. Mir was cleared by a CBI court in the infamous sex scandal of 2006 as all witnesses in this case turned hostile.
In National Conference, there is a possibility of including either Mir Saifullah or Chowdhary Mohammed Ramzan, both MLAs from North Kashmir.
NC ministers have been asked to submit their resignations to the chief minister to enable him to undertake necessary changes, sources said.