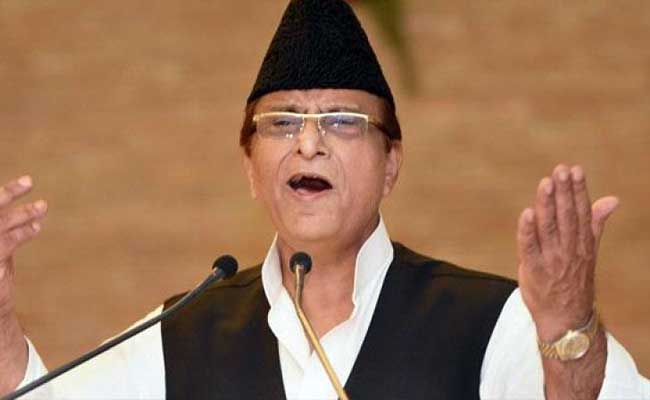 New Delhi:
Supreme Court on Monday refused to cancel a bailable warrant against Uttar Pradesh minister Azam Khan in a Jal Nigam case, which he heads, and directed him to appear before Allahabad High Court today.
The top court rebuked the Samajwadi Party's minority face for "hoodwinking" the high court and also expressed surprise that a bailable warrant could not be served on a minister of the state cabinet.
Mr Khan had moved the top court against the warrant issued by the Allahabad High Court after he had failed to appear before it in the case.
Where is the chairman (Khan) of UP Jal Nigam? Is he in Allahabad or Lucknow," asked an angry bench headed by Chief Justice J S Khehar.
Mr Khan's counsel, with some hesitation to inform about his whereabouts, said "he will appear whenever he is asked". At this, the bench asked "doesn't he have a helicopter?"
"The court feels you (Mr Khan) are hoodwinking it. It is asking you to appear but you are not appearing. You are such a person that no bailable warrant can be served upon you. He is only an ex officio chairman (of the UP Jal Nigam)."
When Mr Khan's counsel pointed out that he was also a minister and would comply with the high court's order after completion of the UP election results on March 11, the bench shot back, saying "See how much time you have already been given".
The high court had asked Mr Khan to appear on March 1 and 6.
"You have not gone to the court. Bailable warrant was issued, even then you did not appear. You are a chairman but the bailable warrant was not served upon you. You have never gone to the court. You go and tell the high court whatever you want to explain, the Supreme Court bench also comprising Justices D Y Chandrachud and Sanjay Kishan Kaul said, adding "There is no reason for you not to go. There is no reason for you not to be served with the bailable warrant.
Disposing off the application to quash the warrant, the bench said: "We are of the considered view that explanation sought by the high court has to be tendered with. In view of the unequivocal and unqualified submission of the petitioner that he would surrender to the jurisdiction of the high court and tender the explanation as sought for by the high court. We consider it just and appropriate by directing Khan to appear before the high court tomorrow at 2 PM.
Mr Khan is a senior leader of the ruling Samajwadi Party which is seeking a second term under Chief Minister Akhilesh Yadav. Mr Khan also holds state portfolios of Parliamentary Affairs, Urban Development, Minority Welfare and Haj.