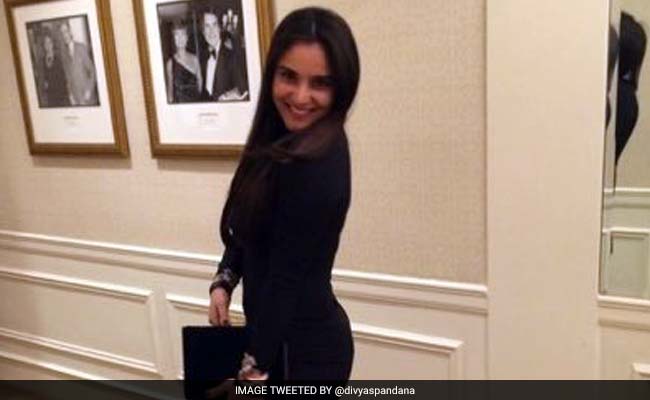 Highlights
FIR charged Spandana with abusing an elected leader and ridiculing India
She had tweeted the image in the midst of the Rafale deal controversy
The Congress leader reacted to the news with just two words: "Oh well"
New Delhi:
A day after a sedition case was filed against Congress leader Divya Spandana in Lucknow for referring to Prime Minister Narendra Modi as a "thief", she took to the social media again today to reiterate her allegation.
"Thank you, guys, for extending your support. And for those who didn't like the tweet, what can I say? Will keep it 'classy' next time. India should do away with the sedition law. It's archaic and misused. To the folks who filed the FIR -- #PMChorHai," Ms Spandana tweeted.
The earlier tweet posted by the 36-year-old actor-turned-politician -- better known in southern India as Ramya -- was a photoshopped image of PM Modi painting the word 'chor' (Hindi for thief) on the forehead of his wax statue. It also bore the hashtag: #ChorPMChup Hai.
A copy of the FIR was tweeted by the complainant, Syed Rizvan Ahmed, who identifies himself a lawyer and social activist. Lucknow police have charged Ms Spandana under Section 124-A of the Indian Penal Code (sedition) and Section 67 of the Information Technology (Amendment) Act on the basis of the complaint, which accuses her of defaming a democratically elected leader and ridiculing India on the global arena.
Thanking the Uttar Pradesh police for registering his complaint, Mr Ahmed tweeted that PM Modi and his team should be more active in stopping those who abuse them. "I and my friends on Twitter got the FIR registered because you are the Prime Minister of the entire country, and not any single party," he said.
"Her tweet was derogatory. The PM represents our sovereignty and republic. It is a disgrace to our nation, and is a contempt. An FIR has been registered," ANI quoted Mr Ahmed as saying.
It is not clear if the Lucknow police will summon Ms Spandana for questioning. Sources said they are still examining the complaint.
Ms Spandana's tweets come in the midst of an ongoing controversy over India's Rafale aircraft deal with France, wherein Congress president Rahul Gandhi has accused the Modi government of altering the multibillion-dollar contract to favour industrialist Anil Ambani. Mr Gandhi has often referred to PM Modi in a similar vein, alleging that the custodian entrusted with safeguarding the country's wealth has turned into a thief.
Yesterday, Ms Spandana had tweeted a list of what her party termed as the "scams and corruption of Modi and his government". Titled the "A to Z of BJP Scams", it listed out 26 alleged rackets in alphabetical order and was attributed to the 'Bhrashtachari Janata Party'. BJP politicians Smriti Irani, Anandiben Patel, Shivraj Singh Chouhan, Prakash Javadekar, Jay Shah, Lalit Modi, Nirav Modi and BS Yeddyurappa were among those featured.
(With inputs from agencies)